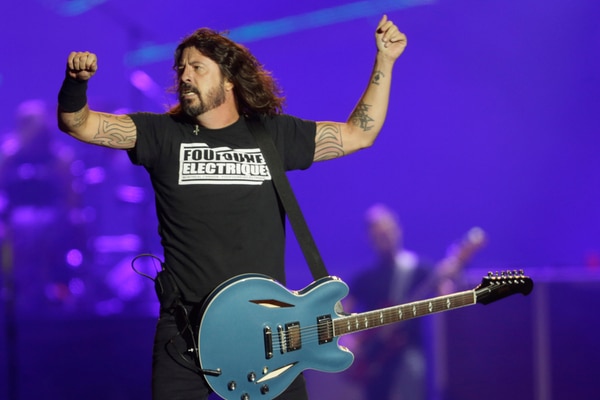 A concert by Foo Fighters has been postponed due to a case of COVID being confirmed "within the Foo Fighters organization." Details of who exactly tested positive haven't been released.
The rockers were set to play a show this Saturday at the Los Angeles venue The Forum. A new date for the concert has yet to be announced. The band have confirmed that any tickets purchased for the show will be valid for the rescheduled gig.
"Despite having made every effort to follow CDC Covid protocols and local laws, there has been a confirmed Covid-19 case within the Foo Fighters organization," a statement released by the band on Twitter read. "Out of an abundance of caution and concern for the safety of the band, crew, and — most of all — the fans, Saturday's show at the Los Angeles Forum is being postponed to a later date."
Had the show gone ahead, it would have been the first full capacity concert staged at the Los Angeles venue since before the pandemic. The venue has a capacity of 18,000.
Entry to the Forum currently requires prove of vaccination or a negative COVID-19 test.
In June, Foo Fighters upset a section of their fans by performing a concert at New York's Madison Square Garden, which similarly required attendees to be fully vaccinated. Anti-vaxers threatened to boycott the band on social media, while a small protest was held at the venue on the night of the concert. The iconic New York venue was hosting its first full capacity event since before the pandemic.
Highlights of that show were released as a short documentary. Titled The Day the Music Came Back, the 10-minute film features the band's performances of Best of You and Everlong. It also pays tributes to the behind the scenes workers who helped stage the event, along with snippets of conversations with fans.
At that concert, frontman Dave Grohl expressed his joy at returning to live performing.
"For the last year, I had this reoccurring dream that I would f**kin' walk onstage and we would look at each other for the first time," he said, addressing the sold-out crowd. "And it would take a couple of minutes, where we just look at each other like, 'Thank God we got here tonight.' I f**kin' walk out onstage tonight. It was just like that f**kin' dream."
Foo Fighters are currently touring to promote the release of their new album Medicine at Midnight. On Tuesday they announced that they would be playing their first ever shows in the state of Alaska in August. Later this month they will headline this year's Lollapalooza Chicago.