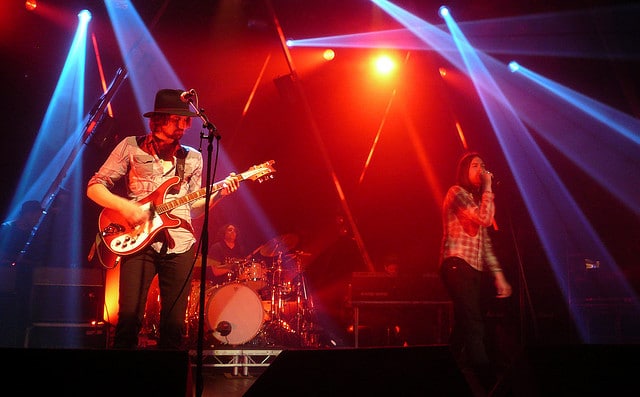 The giant Stoke City footballer Peter Crouch went a bit wild  in London over the weekend, the target man attempted his best crowd-surfing dive during a Kasabian gig.
The six-foot seven striker was celebrating his team's win on Saturday and decided to attend Kasabian's final show of their UK tour in Brixton.
Crouch scored against Arsenal in Stoke City's 3-2 win over the gunners and for his goal celebration attempted his best Ronaldo pose.
After the victory, the beanstalk footballer made his way to London to cap off a very memorable weekend. Luckily for Crouch, the concert wasn't taking place in Arsenal's territory in North London.
While he was in the jubilant Brixton crowd, the English footballer filmed himself as he was tossed around the mosh pit.
Check out the footage below.
Speaking to Time Out about Kasabian's live shows, singer Tom Meighan said: "No-one can touch us on our day. We're f**king Call Of Duty, no-one can stop us. We're a f**king fanstastic live band. One our day, we're unstoppable."
The frontman recently dropped in to Radio NOVA for a chat with Dee & Marty on Morning Glory. Check out the interview here.
Kasabian play Dublin's 3Arena tonight Monday 8th December.