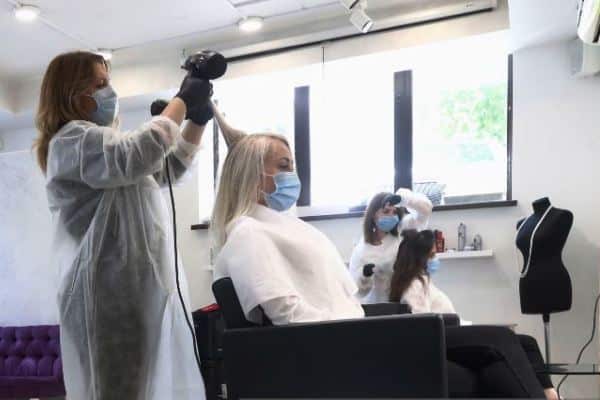 Hairdressers, barbers and salons are due to recieve a new date for reopening next week as Government awaits further advice from the National Public Health and Emergency Team.
NPHET met today to discuss the third and fourth phases as part of the country's plan to reopen the economy and society.
Many in the hairdressing sector have called for the reopening of the establishments to be brought forward to June 29th, in line with the third phase.
The Irish Hairdresser's Federation has published a series of measures that can be implemented to protect staff and clients.
in the Dáil, the Minister for Health, Simon Harris was quizzed as to when he saw a loosening of restrictions on the sector. Minister Harris said: "I know this is a serious issue because it's people's livelihoods. This is an industry that employees a lot of people in towns, villages and cities across our country and like every other industry, they want certainty as to when they can get back."
Mr Harris told the Dail that while he will "appreciate" his barber all the more, he understands that for many people there is an element of good mental health associated with hairdressers. Mr Harris added: "We are now looking at what belongs in each phase – NPHET will provide advice to government on that.
"I presume they started advice on that today and it's likely government will consider that next week so I am hoping by the end of next week we will have a direct answer to that question in terms of what phase do the remaining sectors fit in."
The Irish Hairdressers Federation published guidelines earlier this week which could allow salons to reopen safely in the Government's Phase 3 easing of Covid-19 restrictions instead of Phase 4.
100 specific measures were developed after engagement with the HSE and the Health & Safety Authority and with the assistance of noted Irish health and safety experts.
Among the recommendations include the extensive use of PPE for stylists and customers as well as Covid-19 training for all staff.
Customers will be screened when taking bookings while full sanitisation of workstations will be carried out after each customer.
Salon visits and customer phone numbers will be recorded for contact tracing, while no magazines or reading material to be provided at hairdressers or barbers.