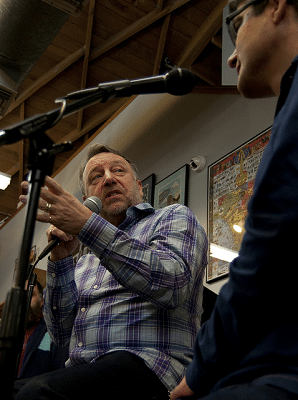 Peter Hook, founding member and bassist for both Joy Division and New Order, isn't so impressed with his former band mates.
Hook seemed unimpressed that he wasn't even informed about the creation of a new official Joy Division Twitter.
The Joy Division account has been created to coincide with the release of So This Is Permanence, a collection of Ian Curtis' diaries and notebooks. The book is due for release on October 16th and features a foreword by Curtis' widow, Deborah Curtis.
The bassist was not consulted about the account and it was made without his permission.
The former member appeared to first learn about the account after seeing a tweet from the official New Order account, to which he replied, "it would have been nice to have been informed."
Hook left New Order seven years ago, relations between himself and frontman Bernard Sumner remain frosty.
New order tweeted:
Just set up our new twitter page @joydivision

— New Order (@neworder) September 17, 2014
Hook replied:
@neworder Thanks for telling me.. As a member of @joydivision it would have been nice to have been informed.

— Peter Hook (@peter_hook1) September 17, 2014
Brian Jonestown Massacre's frontman Anton Newcombe also jumped in:
@peter_hook1 note to @neworder : every single @joydivision song is based on a bass melody and Ian's persona backed up by drums and guitar.

— antonnewcombe (@antonnewcombe) September 18, 2014
New Order are working on a new album due for release on Mute in 2015, which would be their first without Hook. 2013's Lost Sirens was largely composed of existing sessions featuring Hook. I'm not looking forward to the twitter exchanges when the new album drops.