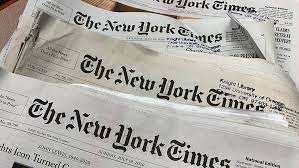 Local police report American Journalist Brent Renaud was shot by Russian forces near the town of Irpin, outside Kyiv.
The New York Times has paid tribute to the former staff member but says Renaud was NOT on assignment for them at the time of his death. Early reports suggested he was working for The Times in Ukraine because he was found with a Times press badge, however the badge had been issued for an assignment some years ago.
Brent Renaud, an award-winning American filmmaker and journalist, covered the wars in Iraq and Afghanistan, the earthquake in Haiti, cartel violence in Mexico and youth refugees in Central America.
"We are deeply saddened to hear of Brent Renaud's death," said Danielle Rhoades Ha, a spokeswoman for The Times. "Brent was a talented filmmaker."
Meanwhile, White House National Security Advisor Jake Sullivan has told CNN that it is yet another example of Russia's ruthlessness.