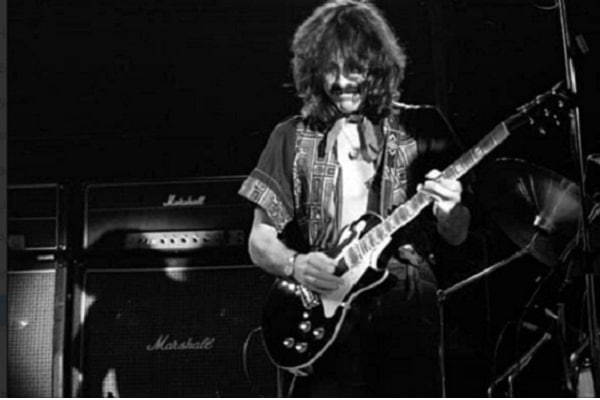 The founding guitarist for Nazareth, Manny Charlton has passed away at the age of 80. This news was confirmed by the band's bassist Pete Agnew.
No cause of death was announced.
Joining the band in 1968 at the age of 27, Manny Charlton was added alongside Pete Agnew, drummer Darrell Sweet and Dan McCaffrey.
His arrival also coincided with the band beginning to work on their own material, as opposed to the strait jacket Top 40 mentality of the Scottish ballroom circuit.
"a big, fat greasy kahuna burger"
Charlton also went on to feature on each Nazareth album between 1971 and 1989, including 'Snakes 'N' Ladders', which was released that same year.
However, Nazareth released the album Hair Of The Dog in 1974. Released in just nine days, the album would become the band's most successful album.
It sold over two million copies globally. The title track was also based on a Charlton riff, and later covered by Guns N'Roses. It also featured a cover of Boudleaux Bryant's Love Hurts.
Speaking about the album at the time, Manny Charlton said, "Hair Of The Dog was a big, fat, greasy kahuna burger of an album that went on to become the only gold-selling eight-track in history". 
Speaking of Guns N'Roses, Manny Charlton was flown by Geffen Records to LA to work with the band in 1986. He worked with Axl Rose, Slash and co on an album which would ultimately become Appetite For Destruction. 
They released formative versions of tracks including Welcome To The Jungle, Nighttraine, Paradise City and Rocket Queen.
Despite not featuring on the album, the covers did feature as the Sound City Session, which was on the delux edition reissue of Appetite For Destruction.
Charlton retired from Nazareth three years later, before releasing his first solo album Drool in 1999. A number of albums followed, with his final record Solo, arriving in 2016.
Charlton's last ever studio work saw him release a new cover of Nazareth's 1976 hit Telegram, celebrating his 80th birthday. Whitesnake bassist Neil Murray also featured alongside London rockers The Fluffy Jackets, Norweigian band The Halloweeen Project.
RIP Manny Charlton from Nazareth @NazarethBand ❤️ pic.twitter.com/nvuP8NaDze

— Rick Friel (@rickfriel) July 6, 2022