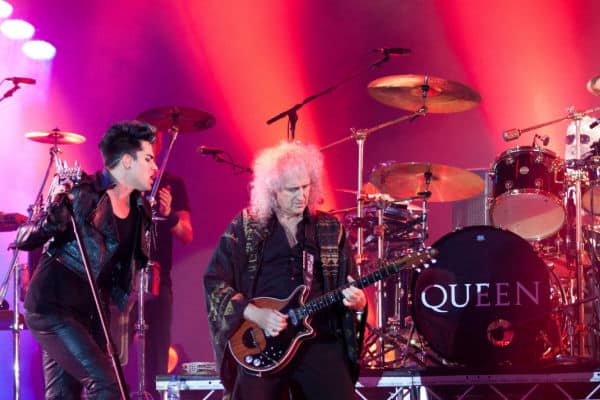 Queen guitarist Brian May has insisted that late frontman Freddie Mercury would have wanted the band to continue performing after his death.
The legendary frontman Freddie Mercury passed away in 1991, with people paying tribute to him in September 2021, which would have marked his 75th birthday. More here.
May made this comments in a recent interview where he was asked if the band could ever make a new album with remaining bandmate Roger Taylor and 'American Idol' series 8 runner up Adam Lambert, who has been collaborating with the pair since 2011.
"a few ideas around"
Asked about whether or not the trio will release a new album, Brian May had this to say.
"Well, we have been in the studio", he revealed.
"We did knock a few ideas around in the middle of one of those [QUEEN + ADAM LAMBERT] tours. But it just never quite reached the place where we felt it was going to be right. So we haven't pursued it so far. That's all I can tell you. So I really don't know. But I think there's a bit of a barrier there. I think if people see QUEEN on a record label, they still want it to be Freddie singing. It could be Jesus Christ on it, but they'd still want Freddie, and I don't blame people for that". 
It's "what he would have wanted" – May
May also responded to critcism that he and the new Queen line up received via social media for continuing to perform after Mercury's death, insisting that is "what he would have wanted".
"You know, I often have this conversation with Freddie's sister, Kash", May explained.
He continued, "She gets those questions as well: 'Why are they doing this without Freddie?' And she completely gets what we're doing. She says, 'This is what Freddie would have wanted. He would not want have wanted his songs or the band's songs to become museum pieces. He would have wanted them to live.' And that's what we're doing. We make the QUEEN legacy live. Absolutely.
"The last tour we did was fantastic," the guitarist added.
"Probably the biggest arena tour we've ever done, and the most exciting in terms of all the shows being sold out and the energy in those audiences. The thing is, people want live music. They need live music. And we're happy to go on supplying it as long as we can. As long as I'm alive, I'll be there".
Last month, Brian May also explained why he felt Queen "could never" play at Glastonbury. More on that here.