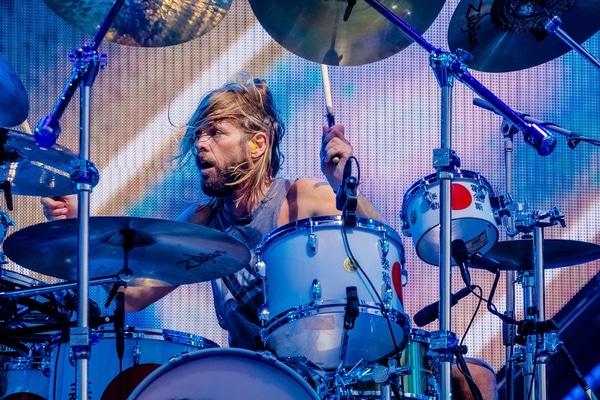 In the final few months of his life, Taylor Hawkins had expressed his discomfort over Foo Fighters' hectic touring schedule.
These were the sentiments expressed by Hawkins' pals Matt Cameron and Josh Kilingoffer.
Speaking to Rolling Stone in a published article, the pair had claimed that Hawkins had revealed he was uncomfortable with this physically demanding tour.
The drummer passed away last March. Foo Fighters were also touring South America at the time.
Hawkins died just before the band were about to take to the stage at Colombia's Festival Estéro Picnic. Officials had claimed that up to 10 different substances were found in his system.
An ambulence had been called to treat him for chest pains.
"couldn't f*****g do it anymore"
Pearl Jam drummer Matt Cameron claimed that Taylor Hawkins made his discomfort known to Foos frontman Dave Grohl.
"He had a heart-to-heart with Dave and, yeah, he told me that he 'couldn't fucking do it anymore'—those were his words", he told Rolling Stone.
"So I guess they did come to some understanding, but it just seems like the touring schedule got even crazier after that." A Foo Fighters representative told Rolling Stone that Hawkins never raised those issues: "No, there was never a 'heart-to-heart'—or any sort of meeting on this topic—with Dave and [Silva Artist Management]".
Smith also mentioned an incident where Hawkins reportedly collapsed on a plane to Chicago in December 2021.
"He just said he was exhausted and collapsed, and they had to pump him full of IVs and stuff", Smith stated. "He was dehydrated and all kinds of stuff." Smith claimed that Hawkins later told him, "I can't do it like this anymore".
Smith also added, "That was one of the straws that broke the camel's back. After that, he had a real important heart-to-heart with Dave and the management. He said, 'I can't continue on this schedule, and so we've got to figure out something".
In response, a representative for Foo Fighters has dismissed Smith's claims that Hawkins had collapsed on the plane.
Taylor Hawkins' death sent shockwaves around the music world, with so many household names sending messages of sympathy.
Following his death, Foo Fighters cancelled all remaining tour dates, and their scheduled performance at the Grammy Awards.