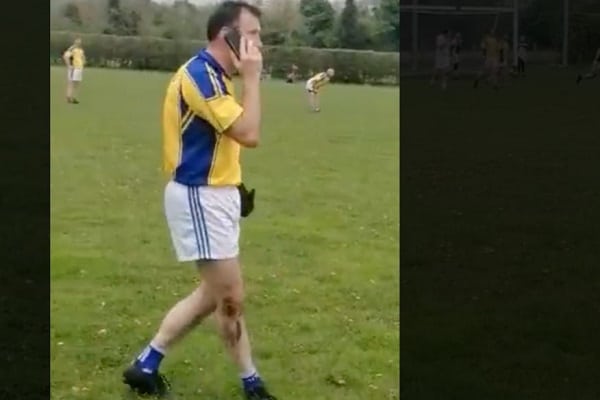 You think you might have seen it all on a GAA pitch! However, think again, as a video has just emerged of a GAA player taking a phone call whilst playing a match!
You might be able to get away with taking a personal phone call whilst at work, however this is still a stretch by anyone's imagination!
GAA Player On Video Says: "I'm under pressure, bye bye"
The match in question took place involving an unknown club from the 'Junior B' leagues. The player in question can be clearly spotted taking a phone call on his mobile phone.
The video was shared via the 'Ah Ref' Twitter account, with the caption reading, "Old school no handsfree making a phone call during a match. Wouldn't see it now with young lads using airpods".
The video which lasts for almost two minutes, also shows the player using one hand to pass the ball to a team mate at one stage.
It has also been watched 141,000 times, along with receiving it's fair share of witty comments, with one user remarking "Selling cattle I'd say".
Check out this video for yourselves below.
Old school no handsfree making a phonecall during a match. Wouldn't see it now with young lads using airpods. #gaa #JuniorB pic.twitter.com/S7RTTD8Pec

— Ah Ref! (@RefComeOn) May 12, 2022
Along with a number of laughing emojis, another user also added "and done umpire in d middle of it. An all rounder really and truly".
Another user also added this. "The man was a legend before this but now he's immortalised forever".
An eagle-eyed user also noted how the player was able to single a wide in the video. "Priorities though…made sure he had both hands free to signal the wid", they said.
'American Pie'
Ahead of his World Title showdown with Dillian Whyte last month, Tyson Fury also joined forces with Don McLean to release a cover of 'American Pie'.
Fury had also performed the track when he beat Deontay Wilder in 2020. He once again treated fans to a rendition of the song, following his victory over Whyte. More on this from Nova here.