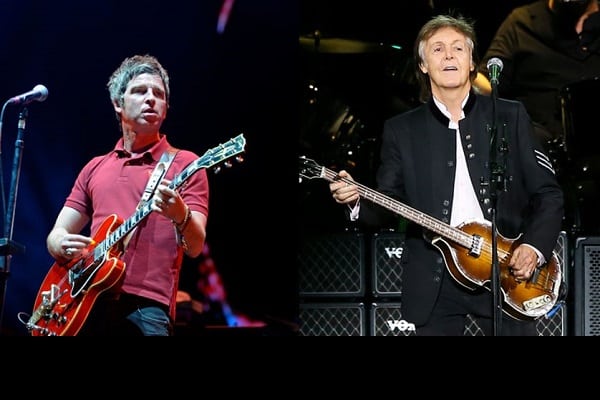 Noel Gallagher recently partnered Sir Paul McCartney in a duet for Stella McCartney's 50th birthday party, the rocker revealed. According to High Flying Birds frontman, the star duo performed renditions of The Beatles' Birthday song and classic hit, I Saw Her Standing There.
Gallagher also played a set of his own at the fashion designer's party at Cliveden House Hotel in Buckinghamshire last week. Speaking on Matt Morgan's Funny How? podcast, Gallagher said: "It wasn't like I was there, and they pulled me out of the crowd like a surprise. I was asked a couple of weeks up front.
"I performed, I did some of my stuff, and then someone said, 'We'll get you up on stage with my dad.' And I said, 'F****** yes!' It was quite the night and, as you can imagine, for a chap like me it was quite the moment."
Noel also revealed that McCartney's bandmate, Ringo Starr was also in attendance, although he was disappointed The Beatles drummer didn't join the duo onstage.
"I performed with the bass player while the drummer watched," Gallagher joked. "The only one thing that could have made it better would be that the other remaining Beatle was playing drums, but he wasn't. It wasn't my party. I was only a guest so I can't say, 'I'll only do it if Ringo does it. I'm either playing with both of you, or, I'm playing with none of you.' It was a good night, though."
Meanwhile, Noel's brother Liam revealed injuries following a fall from a helicopter leaving his Isle of Wight performance. Gallagher headlined the opening day of this year's Isle of Wight festival, which returned over the weekend after being cancelled by the pandemic last year. Gallagher took a photo of his face after the accident, which shows a plaster over his nose, and posted it to his Twitter feed.
"So, check this out, I fell out the helicopter last night you couldn't [write] it," Gallagher joked. "Who said [Rock n Roll] is dead. Keith Moon eat your drum skin out. C'mon you know."
The Gallagher brothers may have not performed together for quite some time, but you can reminisce with the good old days and check them out in Oasis Knebworth 1996, a documentary capturing the iconic shows, which is released in cinemas later this week.