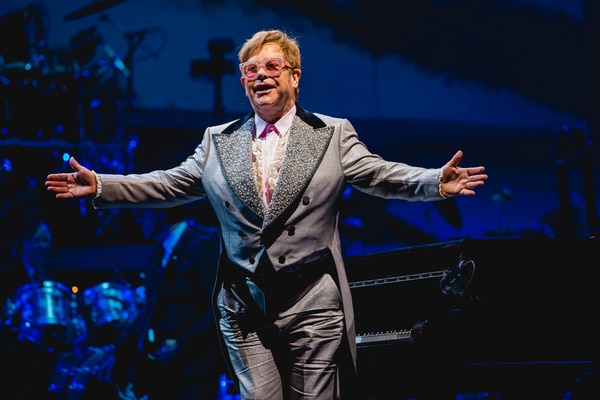 Speculation has circulated among Elton John fans that the music icon is set to perform at Glastonbury in 2022.
Next year's line up has yet to be confirmed, but some eagle-eyed fans have noticed what they have described as a "glasto-sized gap" in the final dates of the star's Farewell Yellow Brick Road tour.
The Tiny Dancer singer recently announced that mid-tour, he will stop off at Bristol on June 22, before returning to Swansea on June 29.
"Glastonbury appearance for Elton John next year?"
This led to the rumour mill going into overdrive, with fans wondering could they see Elton at Glastonbury next year.
One fan wrote, "A #Glastonbury appearance for Elton John next year? Festival dates are 22-26 June so timeline fits". 
Another fan also wrote, "Elton in Bristol on 22 June 2022, surely got to be stopping at Glastonbury two days later". 
"Haven't been asked to"
Elton John has previously revealed that he has never been asked to perform at Worthy Farm.
"I haven't been asked, no", he said. "I mean, they may have asked – but no one's ever told me". 
"But I love Glastonbury", Elton said. "What Glastonbury is good at, is not just putting all sorts of music on the big stages, but it's a great springboard for young acts". 
"Farewell Yellow Brick Road" Tour
Elton John has already confirmed the dates for his "Farewell Yellow Brick Road Tour" for 2022. Beginning in Frankfurt on May 27, this will be the last time that Elton John will hit the road.
"My priorities have changed", he said previously.  "My priorities are my children, my husband and my family". 
Announcing his tour dates, the Rocketman had this to say.
"Hello, all you wonderful fans out there", Elton stated. "I'm coming to you today with an announcement I've been working towards for, well, all my life: the shows that I announce today will be my final tour dates ever in North America and Europe".
"I'm going to go out in the biggest possible way, performing at my very best, with the most spectacular production I've ever had, playing in places that have meant so much to me throughout my career", he added.
He continued, "Whether it's next summer in Frankfurt or at the legendary Dodger Stadium for the grand finale in the United States, I can't wait to see you all on the road one last time".
"This has been an incredible tour so far, full of the most amazing highs, and I look forward to making more wonderful memories with you at these final shows", he added.
"To all my friends down under, We'll be seeing you too. Thank you and I look forward to seeing you in your town".