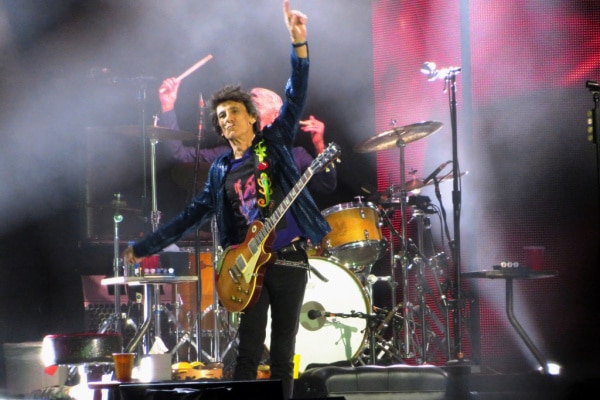 The contents of a converted garage which played host to guitar legends including George Harrison and Ronnie Wood (picture) are to go under the hammer.
The garage which is located in Chatham, Kent, was also visited regularly by music legends such as Ronnie Wood, Pete Townshend, George Harrison, Bobby Womack, along with David Bowie's producer Tony Visconti.
This garage was the workshop of Tony Zemaitis, Britain's premier guitar maker.
Among the contents going under the hammer include books, documents, tools, wall panels, memorabilia, and Zemaitis' work bench. The work bench is also covered in photographs and designs.
Other items being auctioned also include sketches from Beatles legend George Harrison for a guitar, along with letters sent from the late singer.
"a unique sale"
The auction is being organised by Gardiner Houlgate Auctions in Corsham. Speaking about the items, auctioneer Luke Hobbs had this to say.
"This is a unique sale and we're estimating the items could fetch in the region of £20,000 to £30,000″, Hobbs said.
"Tony's workshop is virtually a shrine for guitar fans. Tucked away in this quiet, suburban street, he produced some of the finest guitars this country has ever seen", he continued.
"I'm surprised the council hasn't put up a blue plaque on it. Some of the most famous rock stars in the world visited Tony there".
Zemaitis
Tony Zemaitis went on to produce some of the most iconic acoustic guitars of all time.
1969 saw him craft a 12 string acoustic-guitar for Eric Clapton. The guitar was also called Ivan The Terrible.
He also designed instruments for the likes of Bob Dylan, Keith Richards, Mick Jagger, Donovan and Mike Oldfield.
Zemaitis passed away in 2002.
Tony Zemaitis' workbench. The bench that Tony (and many celebrity client) stood before to craft every single guitar. This bench could tell a story or two. History.

Lot 531 – The Tony Zemaitis Workshop – 8th December 2022#tonyzemaitis #guitarmaker #zemaitis #zemaitisguitars pic.twitter.com/bar8xLHdSv

— Guitar Auctions at Gardiner Houlgate (@guitar_auctions) November 10, 2022
Paying tribute to his father, Tony Zemaitis Jr added that he is "incredibly proud" of his achievments.
"We're incredibly proud of what dad achieved and don't want the contents of his workshop, which has remained untouched since his death, to just disappear", he said.
"The auction is a way for people who loved dad's work to have something of his".
Tony also spoke about his father's famous visitors.
"I might come home from school to find Bobby Womack in the workshop, or George Harrison would arrive unexpectedly in his Porsche 944 then compare notes with dad, who had the same model car", he revealed.
He also added, "At other times, I'd find various rock stars in the kitchen enjoying mum's homemade pizzas. Our neighbours had no idea who was visiting".