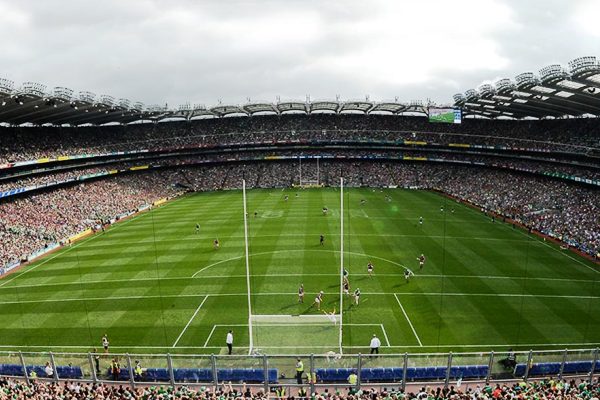 Monaghan have become the latest county that could face the wrath of Croke Park after their football panel were filmed allegedly holding a training session. This is a breach of current Covid-19 restrictions regarding collective sports training.
Under current restrictions, collective sports training is still prohibited.
The Irish Independent first reported the alleged breach today. They presented a file of photographs and videos showing Monaghan footballers training at the Corduff GAA Grounds. This session reportedly took place during the last week in March.
This file was sent to the Department of Justice.
When contacted by the Independent last night, Monaghan County Board Chairman Declan Flanagan said this training session was "news to me". He also insisted that the county have been "holding fast" in adhering to the public health guidelines. He said that as far as he was concerned, no training sessions had taken place.
"For their appropriate attention"
The Department of Justice and Gardaí released these statements.
Department of Justice: "Following receipt of an anonymous letter with information regarding this matter, the Department forwarded the information to the GAA, An Garda Síochána, and the Department of Health for their appropriate attention".
Meanwhile, Gardaí also confirmed that they will investigate the matter fully.
"Following receipt of a complaint. An Garda Síochána is making enquiries into alleged breaches of Covid Regulations at a sports grounds in the north of the country".
They also added, "The Health Act 1947 (Section 31A-Temporary Restrictions) (Covid-19) (No.10) Regulations 2020, as amended, are currently in force. Regulation 11 places restriction on training events. Regulation 11 is not declared to be a penal regulation. If Gardaí identify potential breaches of the public health regulations (travel restrictions) a Fixed Payment Notice or Notices may be issued where appropriate".
The latest breach
This comes after the Dublin County Board issued a 12 week ban to their manager Dessie Farrell, after several Dublin footballers were filmed training in Inisfails GAA club, North Dublin last week.
Players included Brian Howard, Johnny Cooper and Brian Fenton.
Before that, bans were also issued to Cork Senior Football manager Ronan McCarthy and Down manager Paddy Tally. McCarthy received a 12 week ban, while Tally received an eight week ban earlier this year.
Despite this, the GAA said that inter-county training will resume as planned on April 19. They are expected to announce the revised roadmap for how club and inter-county sides will proceed from Mid-May, later today.