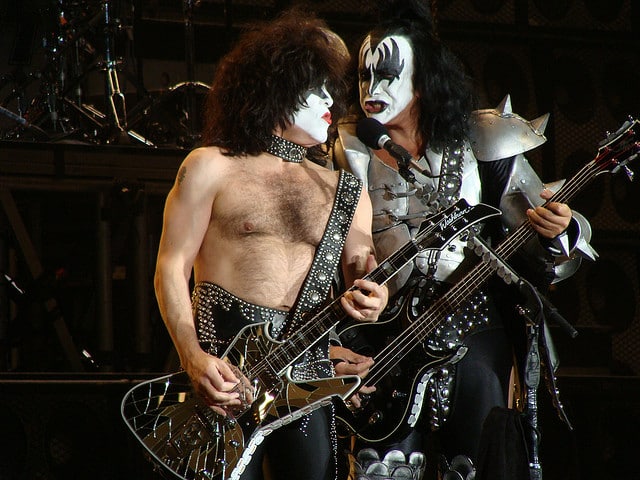 Rock bands are often made up of tumultuous partnerships between talented and ambitious people. This rings particularly true for legendary and flamboyant rock band Kiss. Despite this the partnership between Gene Simmons and Paul Stanley has managed to stand the test of time regardless of their difficulties.
In a recent interview with Goldmine,  Simmons discusses how they've managed to get through it
"You have to figure out that the person next to you isn't you. So sometimes you don't' understand why I might have a different appetite than him….But it is true, as other things take more time you don't' do your other stuff in KISS as well. So we do have a better relationship today because you live and you learn."
Simmons went on to explain how it was ultimately their shared mutual work ethic that has helped tie them together. "You understand that despite it all we both share a great work ethic, we show up on time and do the work and we never "Axl Rose" our way out of anything. I think the same way a "Kardashian" became a 72-day long time reference, I think Axl deserves that thing that could become a verb, "Don't Axl your way out of this thing." I think that's appropriate."
Oh. Burn.
For his part Stanley has also previously referenced the issues between the pair and how they now have a much strong relationship. He made no secret of the tensions between the duo in his autobiography Face the Music: A life exposed.
In the press rounds for the book he summarised to The Pulse Of Radio how the pair have managed to make it work despite the tension  "Over the years that's been an ongoing theme in our relationship. But time is the ultimate judge, and the fact that we've been together, at this point for over 40 years says volumes. There have been times where I've been very angry and resentful — and I'm not saying momentarily — I'm saying for long periods of time. But, in time, everything falls in place and you get a better perspective — hopefully. If you don't expect from someone what's not possible, then you won't be disappointed."
Tensions between the pair peeked during the 1980's as Simmons was busy making a name for himself in movies. Stanley had felt as if Simmons was flaking on his responsibilities in the band and as such Stanley was forced to carry the burden of responsibility. "It's much easier to do that when you know somebody else is gonna run with it. It's much easier to abandon ship when you know that someone is going to bail water. That was more than annoying and hurtful. It was unjust, because to cap that off — he still wanted to be paid equally. Well, that's insult to injury. Who gets paid for not doing their job? Doesn't work like that."
Kiss enthusiasts will be happy with the knowledge that the band is still going strong. And if you aren't particularly a Kiss fan, at least you can appreciate Simmons' ability to take down both Axl Rose and the Kardashians in one sentence!
Photo Cred: Beffy Bases