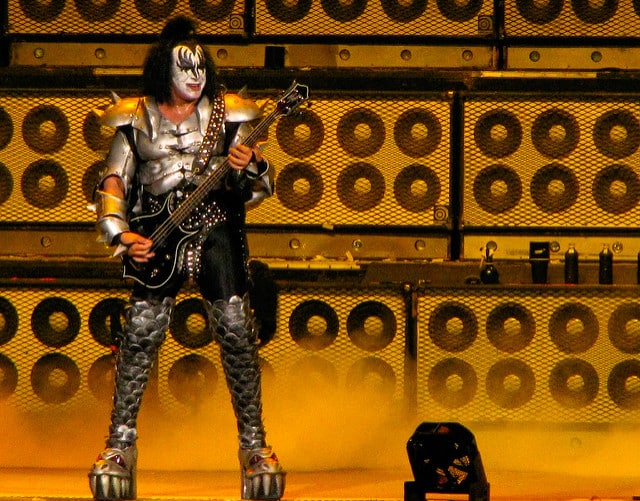 After almost forty years in the rock business, Gene Simmons will for the first time play solo gigs outside of Kiss.
Simmons has agreed to a series of shows for Wizard World Comic Con in Cleveland. He will also perform his first ever solo concert on March 18th at the Agora Theatre in Cleveland.
"This is gonna be a first for me," Simmons said. "Outside of Kiss, I've never done a solo tour. I never did anything like that. Every once in a while I'll jump up on stage and do a song with somebody. Johnny Depp and I did a few songs together, a few other knuckleheads, but that's about it." Simmons stated to cantonrep.com.
If he was nervous about the appearances, he isn't showing it. He talked about how he was excited about the upcoming shows "When Wizard World and I agreed to do five events together, the idea of jumping up onstage and gulping it on for an hour or so came up. And I got a great bunch of guys, real rocking guys who are gonna get up with me, and we'll play all the hits and have ourselves a good old time."
Also in the interview, he discussed the possibility of new music coming from Kiss. The band haven't put out an album since 2012's Monster, and Simmons says to not hold our breathe for anything else anytime soon.
"We're so busy touring around the world, and people in America might not know it, but we just came back from Japan, and we're going to Europe in May… It's just tough to find the time to sit down for six months and do nothing but a record."
Simmons has also been teasing for years now about the release of unheard solo material that he has written over the years, he seems to be confirming many fans hopes that the music is finally about to come when he stated "Well, I can tell you I'm working on a box set that is gonna put together 150 songs that have never been released. That news is gonna be released soon."
Whether this music materialises this time around remains to be seen, but we can all dream a dream!
Photo Cred: Anirudh Koul