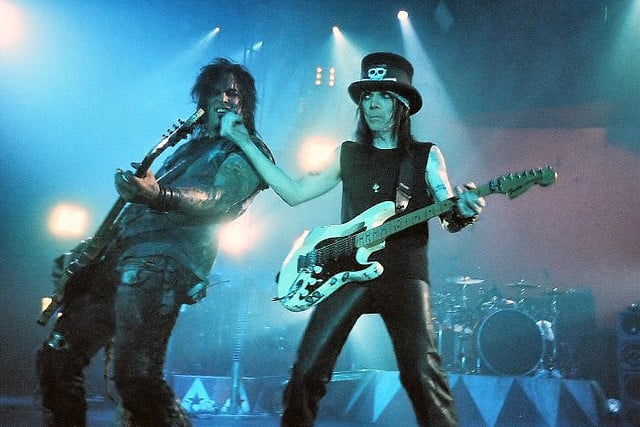 All this week, American rockers Motley Crue are making their Greatest Hits album available for free online.
The hair metal band have collaborated with Google to offer the record through Google Plus.
The LP is packed with classic tunes from the glam rock band, including Shout At The Devil, Home Sweet Home, Girls, Girls, Girls, Dr. Feelgood, Looks That Kill, and many more.
The Greatest Hits is available until Tuesday January 27th and can be downloaded via the Google Play Store.
The album giveaway is to celebrate the announcement that the band are heading off on the road for a final tour.
Motley Cure's 'The Final Tour' is heading to Australia, New Zealand, Japan before heading over to Europe. In June they'll be playing three massive gigs at Download (UK), Sweden Rock (Sweden) and Novarock (Austria) Festivals.
The rockers then head home to complete a 34 show North American tour, marking 34 years of performing together. The group will also be supported by Alice Cooper in the States.
Motley Crue's last concert will be held in their home city on December 31st. The New Year's Eve gig takes place at the Staples Center in Los Angeles.
The band's bassist Nikki Sixx said: "In some of the cities, we could only reach a fraction of the fans who wanted to come see us play last year because of ticket demand so we're coming back to those places to bring them our full production including the Crüecifly drum coaster, as well as all pyro and every other bell and whistle. Even despite the overwhelming fan demand we can only add so many new cities in North America because of our commitment to take the Final Tour global on our final year."
The film distribution company 'Focus Features' is apparently developing a new biopic of the American rockers Motley Crue.
Here's a special message from Nikki Sixx about the Greatest Hits giveaway on Google Plus.