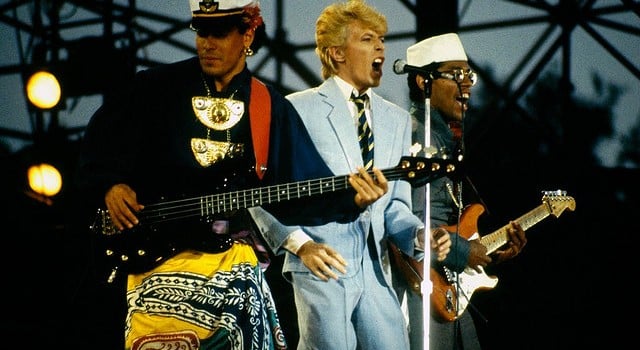 It has recently been announced that Glastonbury 2016 will stage a tribute to David Bowie. Festival organiser Michael Eavis said that they have something special lined up.
Fans were orginally planning a mass singalong at the festival in memory of The Thing White Duke, but now festival boss Michael Eavis has revealed that Glasto will be putting on a pretty special tribute of their own – by screening his legendary headline set from 2000 in full.
Speaking to Radio X recently, Eavis said "Yes, we're doing a film of his set from the year 2000," adding that "It's going to be shown on one of the screens when the stages are shut down. We'll show the entire set."
David Bowie headlined Glastonbury sixteen years ago in 2000, 30 years after he turned up at the second ever festival on foot and played for free in front of only 6,000 attendees.
The festival organisers also recently announced that PJ Harvey will be performing at the festival. They also gave everyone a much better clue of who will join Coldplay as headliners this year as well.
Speaking about the headliners Michael Eavis revelaed who it isn't, saying "Foo Fighters won't be headlining this year. We've got three fantastic headliners but they aren't one of them."
However, then his daughter Emily Eavis dropped a big hint saying "We've got three brilliant British bands headlining the festival, although I haven't actually told anyone that yet,"  narrowing down the possible headliners.
Photo Credit: luna715