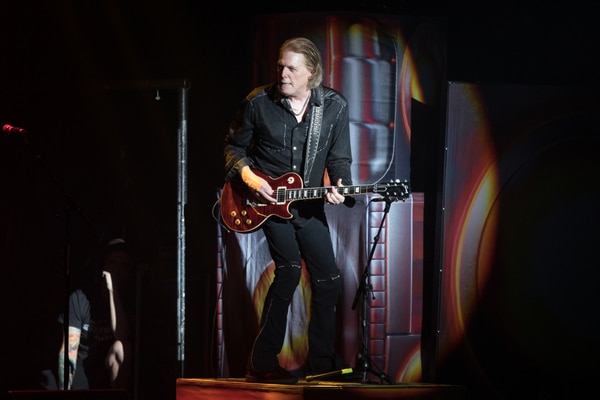 Scott Gorham has recalled the highs of using his golf skills to save his life and the lows of selling drugs to a cop. Speaking in an interview with Louder Sound, the returning Thin Lizzy guitarist revealed that "growing up, I kept landing myself in trouble".
Gorham joined the band for 1974's Nightlife, beginning a long song-writing partnership with Phil Lynott, co-writing classics like Emerald, Bad Reputation, Chinatown and Are You Ready? Reforming a decade after Lynott's death, the band continued with the guitarist leading the way until his retirement from the band. Earlier this year, Gorham parted ways from Black Star Riders to concentrate on Thin Lizzy again, promising live shows in 2022.
However, before Gorham found fame and achieved great things with the Irish rock band, his life did not come as easy. The guitarist admits he always landed himself in trouble while growing up, and even spending four days in LA County jail.
"Growing up, I kept landing myself in trouble. I was in LA County jail for four days once and it was the scariest f****** place on earth. So, when I got the opportunity to come to London it was a chance to wipe the slate clean and start over," Gorham explains. "No one knew who the hell I was, so I could be this totally different guy. London gave me a new shot at life."
Gorham continued to find himself in trouble with the law and once tried to sell hash to a cop in Mexico.
"This seems obvious, right? One Labor Day weekend I went to New Mexico with my friends and when we ran out of money for gas to get home someone said, 'Let's just chop off a little piece of this hash we've got and sell it'. A guy came over and said, 'Hey man, do you have anything?' and I said, 'As a matter of fact I do…'
"But it turned out that the guy was a f****** cop," Gorham revealed. "I was in jail for three days and they were threatening me with two-to-five years in the state penitentiary. I went to court, but my lawyer uncle had a meeting with the judge in his chambers, paid him $4,000 and I walked out a free man."
With getting clean from heroin no mean feat, Gorham found himself going through some very boring times. With irritability and boredom a concoction of reasons for one to fall off the wagon, the guitarist found his calling in a new hobby.
"Golf saved my ass," Gorham claims. "When I finally tried to kick heroin, the guy staying with me to guard me could see how bored and irritable I was getting, so he said, 'As a kid, did you have any hobbies?' I said, 'Well, I used to go to a driving range and smash golf balls', and he said, 'OK, let's go do that.'
"I remember concentrating so hard on hitting this stupid little white ball, and for a couple of hours it made me forget all the s*** I was going through. I went out again the next day, then got my own set of clubs, and never looked back."
The critically acclaimed documentary on the life and death of Phil Lynott has been made available for digital download. A number of musicians have contributed to the film, Songs For While I'm Away, including Lizzy's Eric Bell and Darren Wharton, Metallica's James Hetfield, U2's Adam Clayton, Huey Lewis, Suzi Quatro and more. And, of course, Lizzy man Scott Gorham.