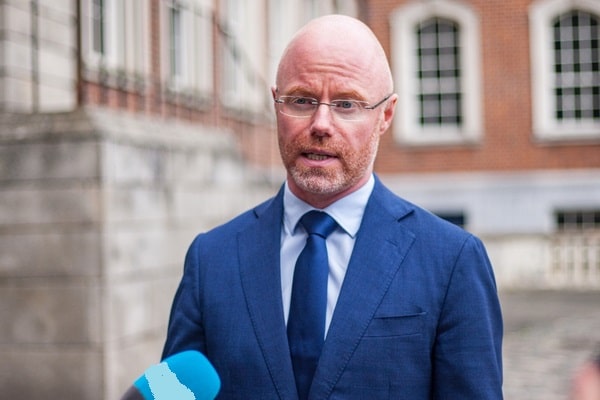 Health Minister, Stephen Donnelly has said the Government is not considering a full-time return to working from home. His comments follow reports of a halt to the phased return to the workplace to control rapidly rising COVID-19 cases.
According to The Irish Times, NPHET officials meet today to discuss decisions on the necessity of further measures for tackling high infection rates. CMO Tony Holohan has said "one of the considerations" is for employees to work from home, although it will be up for discussion before recommendations are made to Government.
However, while speaking to Newstalk Breakfast this morning, Mr Donnelly revealed that the Government is not currently "looking at" a return to a full work-from-home policy. He said no advice has been given to Government by public health officials on the issue and, will not be extending the requirement of COVID certs to other areas such as gyms and hairdressers.
"In terms of regulation, or Government policy, that is not something we are looking at," he said. The Minister also suggests that Government do not want to implement closures in order to reduce the rising case numbers. However, he does reiterate the warning that people must reduce their social contacts to help combat the resurgence of COVID-19.
Donnelly urges the public to "cut back on the less important things" and choose only things of importance to them. He revealed that NPHET's message is for people to choose what things they were going to do. When asked if school Christmas events should go ahead, the Minister informed that it is not as easy as saying "this can or cannot happen".
Dr Holohan revealed at NPHET's weekly meeting that Department of Health had "taken a leadership step" in reinstating a 'working-from-home' rule for its employees. Up until very recently, employees of the Department of Health could attend work in the office once a week. Although a "phased and staggered" return to the workplace is currently being proposed by Government policy, Tánaiste Varadkar suggests a full return will not happen until next spring.
Despite the worsening situation surrounding COVID-19, Holohan has said health officials are not considering re-imposing restrictions "at this point in time". However, additional measures are being considered with the current approach which focuses on encouraging people to reduce social contacts. Accelerating the dispersion of booster vaccines is another method, as well as ensuring compliance from the hospitality sector regarding COVID certificate rulings.
Dr Holohan pointed to surveys showing one-third of restaurants, cafes and pubs are not checking passes, and "not enough" people are heeding NPHET's message on socialising. Although earlier models suggest cases should peak towards the end of the month, officials say current trends suggest there is "no guarantee" this will happen.