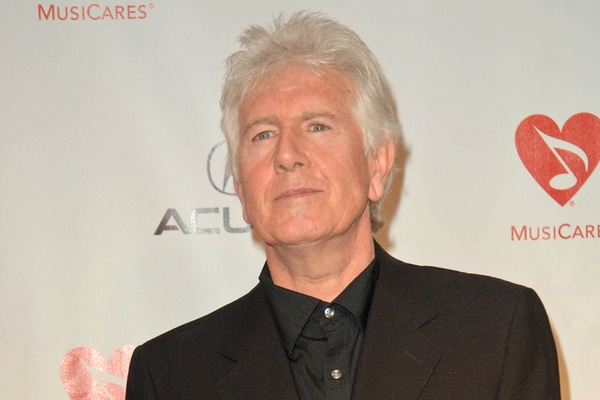 Half of Crosby, Stills, Nash & Young have now left Spotify.
Neil Young's old bandmate Graham Nash is the latest artist to pull their music from streaming service Spotify in an ongoing row centred on the Joe Rogan Experience podcast.
Last week Young issued Spotify an ultimatum, demanding they remove the podcast or he would pull his music from the service. Spotify stuck by Rogan and said goodbye to Young.
"I am doing this because Spotify is spreading false information about vaccines – potentially causing death to those who believe the disinformation being spread by them," Young wrote last week. "They can have Rogan or Young. Not both."
Young's fellow Canadian singer-songwriter Joni Mitchell quickly followed his lead in pulling her music from Spotify, along with his Crazy Horse bandmate Nils Lofgren.
Now Young's old Crosby, Stills, Nash & Young bandmate Graham Nash has announced that he will also be removing his material from Spotify.
"Having heard the Covid disinformation spread by Joe Rogan on Spotify, I completely agree with and support my friend Neil Young and I am requesting that my solo recordings be removed from the service," Nash wrote in a statement.
Responding to Young's actions, Rogan recorded a video in which he vowed to offer more balance on his podcast when it comes to opinions around the pandemic. Nash doesn't appear to feel this is enough however.
"There is a difference between being open to varying viewpoints on a matter and knowingly spreading false information which some 270 medical professionals have derided as not only false but dangerous," Nash wrote. "Likewise, there is a difference between misinformation, in which one is unaware that what is being said is false, versus disinformation which is knowingly false and intended to mislead and sway public opinion. The opinions publicized by Rogan are so dishonest and unsupported by solid facts that Spotify becomes an enabler in a way that costs people their lives."
In his statement, Nash pointed out the important role Spotify now plays in giving vital exposure to artists.
"It should also be acknowledged that many younger musicians, and many musicians of all ages, rely on platforms like this to gain exposure to a wider audience and share their music with the world," he wrote. "Not everyone is able to take steps like this which is all the more reason that platforms like Spotify must be more responsible and accountable for the content they are obligated to moderate for the good of the public at large."
David Crosby was asked on Twitter if he would be following the lead of his former bandmates. Crosby responded by saying he no longer has control of his music, but if he had he would support Young.
I no longer control it or I would in support of Neil https://t.co/hrD132gi8T

— David Crosby (@thedavidcrosby) January 29, 2022
Stephen Stills has yet to weigh in on the ongoing row.