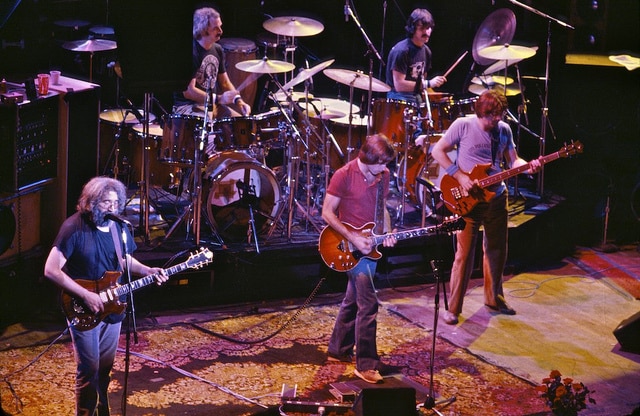 It looks like this is going to be your last chance to experience the Grateful Dead live, the band are reuniting for a handful of farewell gigs.
The remaining four members Mickey Hart, Bill Kreutzmann, Phil Lesh and Bob Weir will be playing three special 50th anniversary shows.
The concerts will be held in Chicago at Soldier Field this summer on July 3rd, 4th and 5th.
Bassist Phil Lesh told Digital Spy: "It is with respect and gratitude that we reconvene the Dead one last time to celebrate, not merely the band's legacy, but also the community that we've been playing to, and with, for 50 years."
Grate Dead will be joined on stage by Phish's guitarist Trey Anastasio, he will be filling in for the late frontman Jerry Garcia.
Trey Anastasio has been furiously preparing for the upcoming gigs, digging through boxes of old material.
Speaking to Billboard, Anastasio said:  "I've been listening and rediscovering and it's been really, really fun." I've been going through the history a little bit. About a week ago I decided to start listening to 1968, '70, '71 — early Dead, with Pigpen and everything, and it's incredible stuff. Then I started moving forward in time and playing along with the guitar, relearning the songs."
The band aren't too worried about the Phish member understanding the Dead vibe, after all he went to his first Grateful Dead show when he was just 16 years-old.
Anastasio added: "After that, I went to as many shows as I could, sometimes even standing right in front of Jerry, up on the rail, a few feet away from his amplifier. They were utterly one of a kind, carving a completely new path. I owe an enormous debt of gratitude to this band."
Director Martin Scorcese is also releasing a documentary about the Dead to celebrate their 50th anniversary.
*Image Taylor Hill/FilmMagic