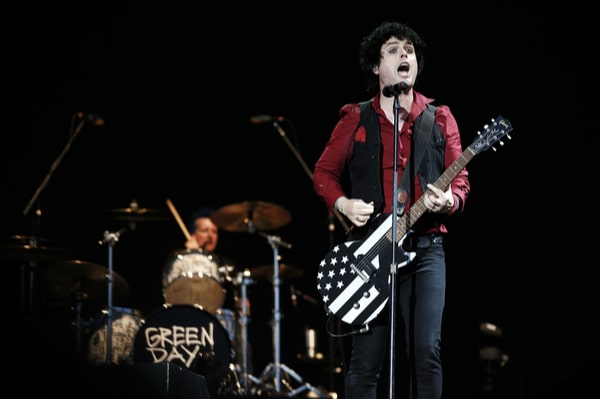 Green Day have cancelled their upcoming live gig in Moscow in light of Russia's invasion of Ukraine. The band had been due to perform in the Russian capital on May 29.
Ukraine had cut diplomatic ties with Russia. They also declared marital laws after their president Vladimir Putin ordered an attack on Ukraine last week.
"This moment is not about stadium rock shows" – Green Day
Writing via an Instagram story, Green Day frontman Billie Joe Armstrong had said that the Russian invasion of Ukraine has led to the band cancelling their gig at Moscow.
Armstrong had stated that "this moment is not about stadium rock shows".
"With heavy hearts, in light of current events we feel it is necessary to cancel our upcoming show in Moscow at Spartak Stadium", Green Day wrote.
"We are aware that this moment is not about stadium rock shows, it's much bigger than that. But we also know that rock and roll is forever and we feel confident there will be a time and a place for us to return in the future". 
Urging fans to "stay safe", the band also confirmed that ticket refunds are available.
People React To Russia Ukraine Conflict Worldwide
Along with Green Day, members of the music and entertainment world reacted to this invasion last week, including Franz Ferdinand frontman Alex Kapranos, Bring Me The Horizon's Oli Sykes and Yungblud.
Kapranos wrote, "I was fortunate enough to spend time in the beautiful cities of Kyiv and Odessa when I played there with our band. The people I met were warm and my fond memories are now tinged with indescribable sadness as I see what is happening". 
Elsewhere, Elton John had also taken to Instagram to give his reaction to this Ukraine Russia conflict, sharing his support to the Ukranian people.
Elton wrote, "For over 20 years, the Elton John AIDS Foundation has supported some of the most vulnerable people in Ukraine with access to HIV services and care, as part of our commitment to communities across Eastern Europe and Central Asia," he captioned the image. "We are heartbroken and appalled to see this conflict unfold and our hearts are with the people of Ukraine who do not deserve to live through this nightmare. During these devastating times, we stand for an end to the violence and suffering in Ukraine so that life-saving services and humanitarian aid can reach those desperately in need".