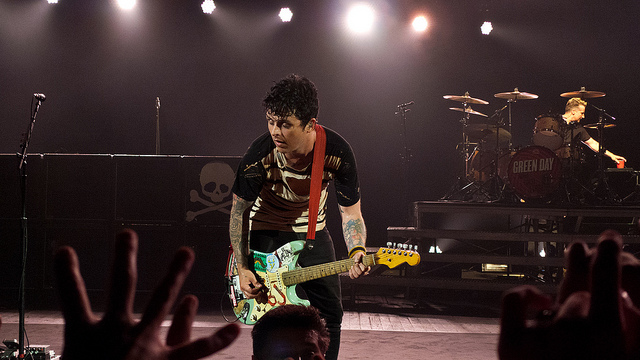 Green Day look set to tour Europe early next year with leaked information suggesting some UK gigs.
Following the announcement of their new album, Revolution Radio, the group have been hinting of a tour but have yet to officially confirm the news.
Last month, frontman Billie Joe Armstrong, told Rolling Stone, "We're probably going to be announcing dates pretty soon" – but latest reports suggest the much hyped tour is likely to commence early next year.
First Direct Arena tweeted a promotional video announcing some UK dates which suggests that tickets are to go on sale this Friday at 9am.
NEWS: Punk legends #GreenDay kick off UK tour @fdarena #Leeds this February! On sale 9am Friday. #RevolutionRadio pic.twitter.com/uuNYrLK02Y

— first direct arena (@fdarena) September 6, 2016
Planet Rock also announced the UK dates stating tickets will be available from their website. The group are set to play Manchester, Leeds and London in February 2017.
While NME reports that the full European schedule has been leaked. The tour reportedly kicks off in Turin on January 10th and will make stops in other big cities like Berlin, Paris and Amsterdam.
Their latest album, Revolution Radio, is released October 7th.
Billie Joe Armstrong recently ridiculed claims that rock music is dead.
Photo Credit: Stephen H