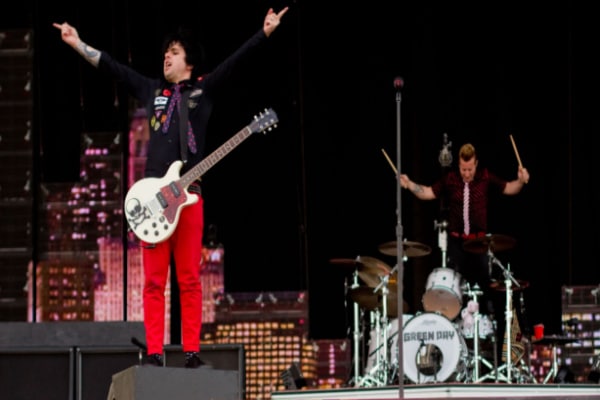 At their concert in Berlin as part of their Hella Mega Tour, Green Day performed with a banner reading "F*** Ted Cruz" in the background.
This banner had initially circulated following the band's Berlin gig, with their frontman Billie Joe Armstrong retweeting a fan photo of this Cruz reference, along with a love heart emoji.
This public protest against Ted Cruz, comes after the Republican Senator received copious amounts of criticism following the tragic Elementary School shooting, which resulted in the deaths of 19 children and two teachers.
The criticism has been subsequently levelled at Cruz. He is also the junior senator for the state. However since the shooting, he has continued to reject attempts to pass stricter firearm laws.
"Green Day know Ted Cruz is a d***"
Several people have also reacted to Green Day's "F*** Ted Cruz" banner.
"Green Day knows Ted Cruz is a d***", one user wrote. 
Other musicians reacted to these tragic events, including Geezer Butler, Sebastian Bach, Doug Aldrich, Peter Frampton, Alex Hale and David Draiman.
Black Sabbath's Geezer Butler wrote, "Here we go again – another U.S. president giving his useless 'thoughts & prayers' to the victims while doing nothing to stop 18 year old kids from legally buying ASSAULT RIFLES, for the purpose of killing", Black Sabbath's Geezer Butler wrote.
"God forbid they buy alcohol at that age. #WhatAreWeDoing". More on this here.
This is also not the first time that Green Day have made their feelings known about American politicians.
Back in 2016, Billie Joe Armstrong had compared then US president Donald Trump to Adolf Hitler. The frontman also backed Joe Biden's presidential campaign four years later in 2020.
Last month, Green Day also cancelled their gigs in Moscow due to Russia's ongoing invasion of Ukraine.
"With heavy hearts, in light of current events we feel it is necessary to cancel our upcoming show in Moscow at Spartak Stadium", they said.
They also added that ticket refunds were available. More on this report here.
Danke danke Berlin 🤘🏼 pic.twitter.com/FMg94kN6Hh

— Green Day (@GreenDay) June 6, 2022