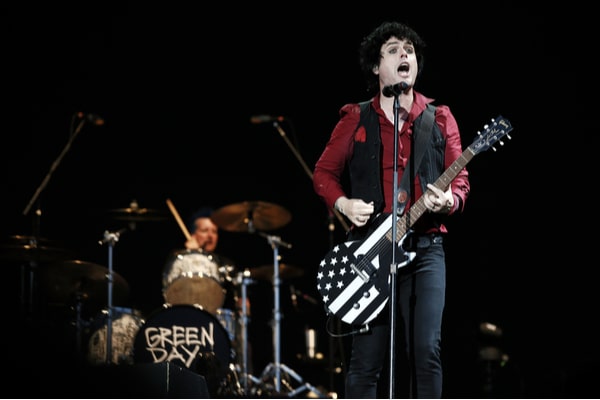 Green Day have released yet another "1972" teaser clip via Instagram.
Fans were previously left speculating after the band had shared a clip of them recording music in London earlier this month.
They were also quick to point to the fact that Green Day's Mike Dirnt, Tré Cool and frontman Billie Joe Armstrong were all born in 1972. More on this report here.
The clip also shows Billie Joe Armstrong putting a guitar riff together. Check out the clip here.
"The Static Age"
And now, Green Day have shared yet another teaser clip, offering fans an insight into what to expect from the band's new music.
The band members have been discussing a melody and working on a track which appears similar to "The Static Age" from their 2009 album 21st Century Breakdown, which plays over the top of this clip.
Mike Dirnt then sprays "1972" onto the wall mid way through the video. He then sprays the camera lens with what appears to be a number 3.
Check the clip for yourselves here.
This has led to many fans wondering what "1972" means. "1972? 50th birthday special?", one fan added.
Another fan also wrote, "First post was posted December (19th) Then the Second was posted January (7th) 3rd post on January (22) Soooo 1972″. 
"Holy Toledo"
Last November, Green Day shared their single "Holy Toledo".
The track shows Green Day frontman Billie Joe Armstrong singing the lyrics,  "We're hell raisers/ Death wish cravers/ We're running with razor blades/ Party favours/ Sex with strangers/ We don't care what the neighbours say".
It started with Armstrong wanting to visit "where the trouble begins". It is also hailed as an energetic and pop-punk number.
Check out that track and Nova's report here.
It was also announced that same month, that Green Day along with the likes of Paul McCartney and U2 would be auctioning off guitars for a charity intiative. Find out more on that here.