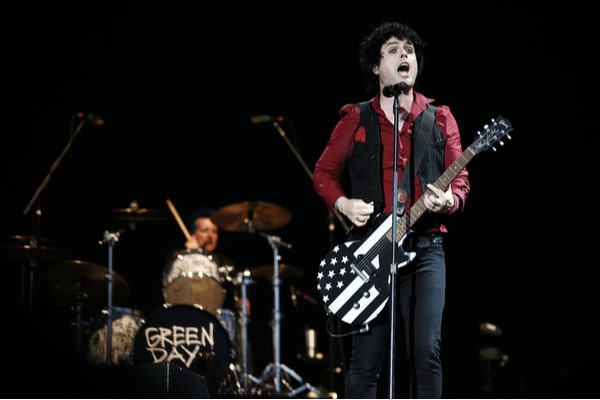 Green Day have shared yet another teaser clip with the numbers "1972", leaving fans intruiged.
After they shared a short clip of them recording music in London last month, fans have been left wondering if there is new music is to be released from the band in the near future.
"1972"
At one stage in this clip, the numbers "1972" appear, leading fans to point out that Green Day band members Billie Joe Armstrong, Mike Dirnt and Tré Cool were all born in that year.
"I guess that rumour about Billie telling a fan that they're releasing new music soon is true…😭", one fan wrote.
Another fan added, "1972? 50th birthday special?".  
And now, this latest clip shared by the band shows frontman Billie Joe Armstrong putting together an acoustic riff. The top of the video shows some footage that is being played backwards.
This clip concludes with "1972" in the background. The video also shows Tré Cool dancing in the background, wearing nippel tassels akin to the previous clip.
It has yet to be confirmed whether this clip was filmed in London like the previous one. However, the video does feature a car with a UK licence plate like the previous clip..
You can check this latest video of the band via their Instagram account here.
Just before Christmas, Larry Livermore co-founder of Lookout Records, has made the bold claim that Green Day had the potential to be "as big as the Beatles". 
"People typically assume Dookie, which came out in 1994, was Green Day's breakthrough,", Livermore said.  "but it was with Kerplunk, more than two years earlier, that the band reached escape velocity. We who had known them since the beginning could only watch in awe as they headed for the stars".
He also spoke about the first time he saw Green Day perform live, "for five teenagers in a candlelit cabin in the middle of a mountain wilderness. Billie and Mike were only 16 at the time, and their then-drummer, Al Sobrante was all of 18," he recalls. "It was only their third or fourth show ever, but there was no doubt in my mind that their music was ready for the world". 
Green Day were performing under the name Sweet Children at the time.