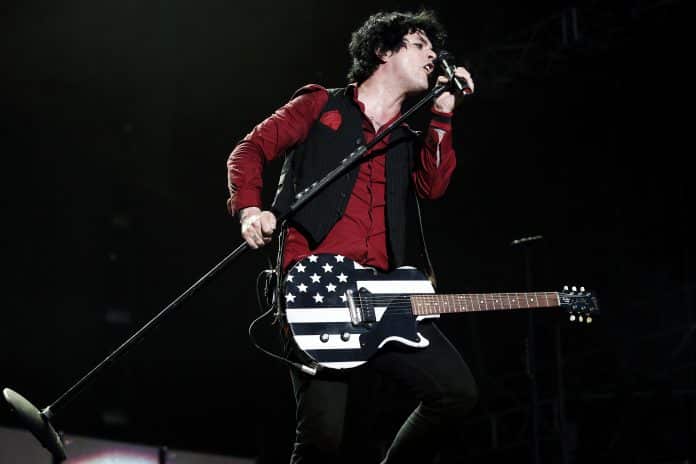 Green Day's singer Billie Joe Armstrong has announced he is releasing the various covers he played during lock down in a full length new cover album.
The record is called 'No Fun Mondays' and is set for release on November 27th. During the enforced lock down, Armstrong played various covers over the course of many months and were released on his YouTube Channel.
Armstrong started his quarantine series with a cover of Tommy James and The Shondells hit 'I Think We're Alone now'. That cover featured Armstrong's sons Jakob and Joey join Billie Joe on vocals.
The Green Day frontman covered a wide variety of songs including tracks by Kim Wilde, John Lennon, The Bangles and many more. The last track on the album is a cover of Billy Bragg's song 'A New England'. Armstrong said he loved this song and also praised Kirsty MacColl's version of the song also.
Many songs on the new album have been recorded as covers by other bands throughout the years. 'Police on My Back' was originally recorded and written by Eddy Grant's beat group called The Equals. When Armstrong's cover was released he also noted that "The Clash slayed this song" as well.
In a statement, Armstrong said "While we've all been in quarantine I've been reflecting on the things that matter the most in my life: family, friends, and, of course, music."
He went on to add "I figure if we have to spend this time in isolation at least we can be alone together."
The new record is available to pre-order in LP and CD format. There is also a special edition baby blue coloured vinyl pressing version, with a glow in the dark cover to be released as well.
It has also announced that in the weeks leading up to the release of the cover album, tracks will be released on platforms such Spotify, Apple Music and Deezer on a weekly basis. The full track list is available below.
Green Day were supposed to be spending their 2020 on the road with their mammoth tour called ' Hella Mega Tour" with Weezer and Fall Out Boy in support. Due to the pandemic, this tour was pushed back until next year. The tour includes a Dublin show at the RDS on June 30th, 2021. All tickets bought for the original 2020 concert are still valid for the new show.
'No Fun Mondays' is not the first album Armstrong has released this year. Green Day released 'Father of All' back in February of this year. It was the punk icons thirteenth album and was the follow up to 2016's effort 'Revolution Radio'.
No Fun Mondays Track list:
Side One
01. I Think We're Alone Now – Tommy James and The Shondells
02. War Stories – Starjets
03. Manic Monday – The Bangles
04. Corpus Christi – The Avengers
05. That Thing You Do! – Adam Schlesinger
06. Amico – Don Backy
07. You Can't Put Your Arms Round a Memory – Johnny Thunder
Side Two
08. Kids in America – Kim Wilde
09. Not That Way Anymore – Stiv Bators
10. That's Some Rock 'N' Roll – Eric Carmen
11. Gimme Some Truth – John Lennon
12. Whole Wide World – Wreckless Eric
13. Police on My Back – The Equals
14. A New England – Billy Bragg