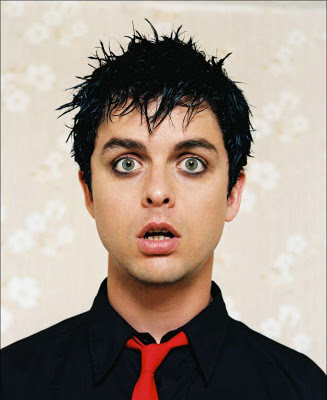 Green Day frontman Billie Joe Armstrong strongly disagree's with the cynics who believe rock is dead.
He thinks this sort of mindset is outrageous, speaking to Rolling Stone, he said "That's such a broad stroke, absurd thing to say about any genre of music. It's like saying, "Air is dead" or "Water is dead." It makes no sense to me why people say things like that".
The rock trio clearly believe that rock music is well and truly thriving. They recently reunited for new single 'Bang Bang' and confirmed the release of their next album Revolution Radio. 
The band are also ready to hit the road again with Armstrong hinting a tour announcement is approaching, "We're probably going to be announcing dates pretty soon. We've been in the garage hammering them out, and it sounds great".
When asked if 'Bang Bang', the debut single from the album was related to the recent shootings, Armstrong said, "It's about the culture of mass shooting that happens in America mixed with narcissistic social media. There's this sort of rage happening, but it's also now being filmed and we all have ourselves under surveillance. To me, that is so twisted. To get into the brain of someone like that was freaky. It freaked me out".
Speaking of his four year hiatus, Armstrong said "When you take a break, you're taking a break from something that you absolutely love". He explained he began to feel "unemployed" and felt obliged to find his purpose in life. Now, he is just "psyched" to be back doing what he loves.
Green Day's latest album Revolution Radio is set to be released on October 7th.
Photo Credit: Magic Inside You