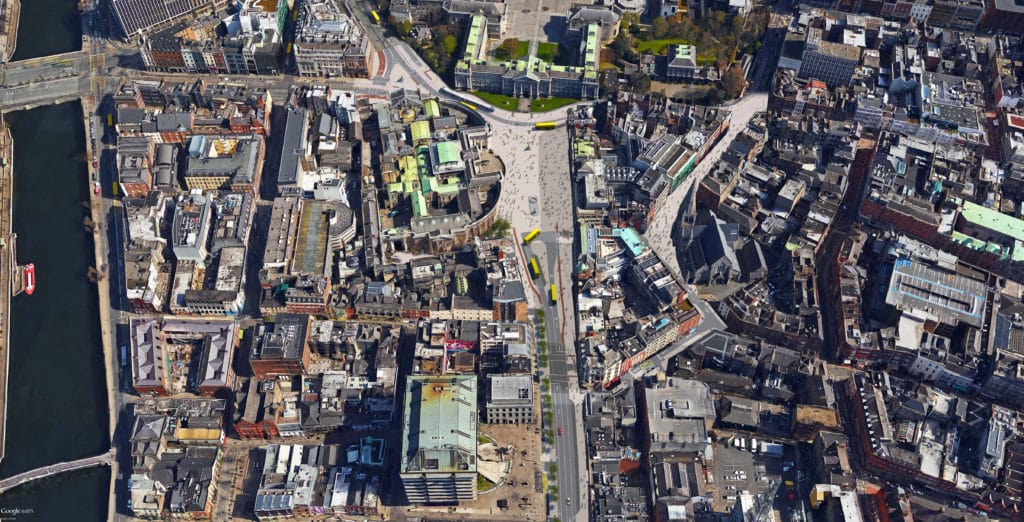 A decision on the proposed College Green plaza due to be announced today has been put back until October 31st. An Bord Pleanala denies a lack of manpower is to blame for ongoing delays in making a decision.
It's denied a lack of manpower is to blame for ongoing delays and insists it's a complex case. Stumbling blocks include a ban on traffic buses and taxis accessing Dame Street from College Green.
The council submitted its planning application for the plaza to the board in May 2017. The board had initially intended to issue its decision last November, the month before the cross-city Luas began running.
It is not known if the BusConnects plan has formed part of the board's deliberations.
While the new decision date is just three weeks away, if it is delivered by the end of the month it will be almost a year since the board was first scheduled to rule on the council's plans.
The Green Party has called on the Minister for Housing Eoghan Murphy to act over the planning delays in strategic infrastructure projects.
Green Party Dublin Spokesperson Councillor Ciarán Cuffe:
"An Bord Pleanála stated in their annual report last week that only 67 percent of appeal decisions were made within the statutory target. This is unacceptable and the Minister must act to make appointments to fill vacant positions on the Board. The Board's strategic plan, published last August, stated that the Board would drive the 'highest standards in timely decision making and service to the public.' Long delays on key projects such as the Poolbeg West Strategic Development Zone and the College Green Plaza are unacceptable. Only 35 percent of decisions were made in the statutory period.
"Just this morning we hear of yet another delay in the College Green Plaza case which has been delayed on three previous occasions. The Board is a quasi-judicial body. Justice delayed is justice denied and it is unacceptable that much-needed projects are facing lengthy backlogs that should have been foreseen and addressed.
"Minister Murphy must ensure that all staff vacancies are filled and ensure that key housing and other projects are not unduly delayed by a lack of capacity within Bord Pleanála."