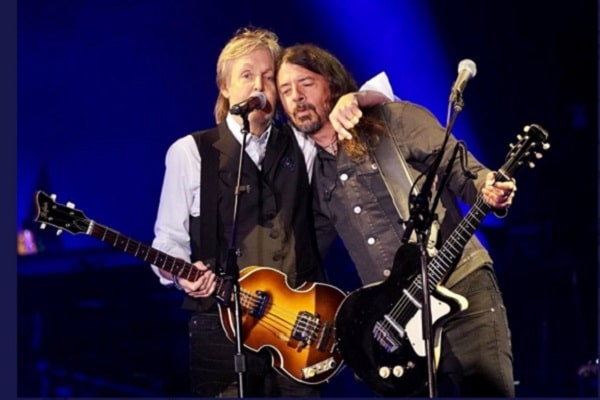 First the first time in over 3 months, Dave Grohl appeared on stage when he joined Paul McCartney live at the Glastonbury stage over the weekend.
This marks Grohl's first live performance since the tragic death of his friend and Foo Fighters bandmate Taylor Hawkins. The drummer died in March aged 50.
Earlier this month, it was also confirmed that a tribute concert will take place in Hawkins honour.
"My friend my hero"
Paul McCartney introduced Dave Grohl as "my friend, my hero", as Grohl made his way onto the stage.
"Hi Paul, how are you?", the Foos frontman asked McCartney.
The pair then performed Beatles track 'I Saw Her Standing There', before sharing a live rendition of Wings' 'Band On The Run'.
Check this out here.
Grohl also told the audience that he made it to the festival, despite suffering the misfortune of two cancelled flights.
"Well, I started on Wednesday", Grohl explained to the crowd. "Then the flight got canceled, back to the airport Thursday and then the flight got canceled, but I swear I would never miss being on stage with you right now".
Along with Grohl, Bruce Springsteen also joined McCartney on stage for a live cover of his track 'Glory Days'. Springsteen and Grohl then joined McCartney on stage for a live rendition of 'The End'.
McCartney Joined By John Lennon
During his headline act at Glastonbury, Paul McCartney was also joined on stage by his former Beatles bandmate John Lennon.
Thanks to the use of technology, McCartney was able to perform with the late John Lennon, as the pair sang Beatles' track 'I've Got A Feeling'. More on this from Nova here.
Other performers also used their live set at Glastonbury to protest against recent Roe v Wade ruling in the US recently.
"Today is a really, really dark day for women in the US", Billie Eilish told the audience during her live set on Friday. More on this here.