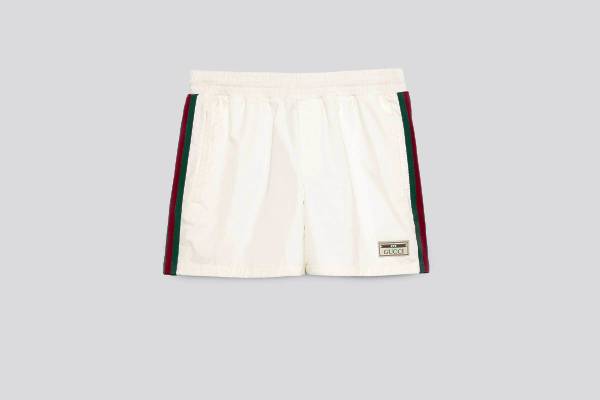 Sales of O'Neills GAA shorts have spiked since the airing of the TV adaption of Normal People. Paul Mescall – who starred as Connell in the show – has helped grow the demand after being photgraphed wearing an old pair of Maynooth togs in London.
Designer brands have taken notice, with Gucci now selling their own version of GAA shorts for around €550! That is, if you believe the Italian fashion house are not just selling nylon swimming togs and not just a fashionable version of Mayo's stripes on white togs.
O'Neill's Marketing Manager Cormac Farrell says they're flattered that the style has been recreated:
"Well it's ironic that there are the Mayo colours. Maybe it's Mayo's year! Long may it continue because the reality is that these are normal, if you pardon the pun, bog-standard shorts. We sell quite a lot from year to year. This year we are selling more for obvious reasons."
Paul Mescal's Gaelic football shorts became the focus for some people after many people fell in love with Connell Waldron after bingeing om the show in the early weeks of lockdown.
Now sightings of Mescal jogging in his O'Neills Maynooth shorts – which he wears to stock up on prawn cocktail crisps and pre-mixed tins of gin and tonic at his local Co-op as well as jogging – have weighed down internet connections ever since. By some acccounts at least!