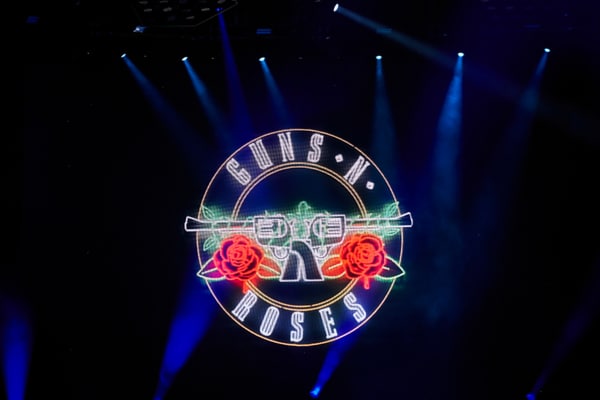 Guns N'Roses' famous track 'Sweet Child O'Mine' has hit top spot in Billboard's Hot Hard Rock Songs Chart.
It has also re-entered the Hot Rock & Alternative Songs chart at number 9.
The 1987 hit has achieved this feat after it featured in the upcoming trailer for the movie, Thor: Love And Thunder. 
'Sweet Child O'Mine'
According to Billboard, 'Sweet Child O'Mine' also sold 1,600 downloads during the tracking week of April 15-21. It also earned 4.7 million US streams, an 8% increase in the same week.
This comes after the track had reached a billion streams on Spotify last August. The track also became the billionth song to achieve this feat on Spotify.
Over the years, Guns N'Roses band member Slash has had his say regarding the song.
Speaking to Metro a decade ago, Slash said that the track was the most lucrative song he had ever composed.
"It's the most covered [song I have ever written]. There are some really good instrumental versions for the piano or violin, but I've been horrified by some muzak versions", he said.
"I've been sitting in a doctor's office thinking, 'That sounds familiar,' and then realizing it's someone's interpretation of what I've written. That can be a creepy feeling". 
However, he said in a later interview that he was not so keen on Sweet Child O'Mine.
"GUNS N' ROSES was always a real hardcore, sort of, AC/DC kind of hard rock band with a lot of attitude. If we did any kind of ballads, it was bluesy. This was an uptempo ballad", he said.
"That's one of the g****t things you can write. But at the same time, it's a great song — I'm not knocking it — but at the time, it just did not fit in with the rest of our, sot of, schtick. And, of course, it would be the biggest hit we ever had". 
In more recent times, Slash hinted that new music was on the horizon for Guns N'Roses. 
Thor 
Directed by Waititi ("Thor: Ragnarok", "Jojo Rabbit"), and produced by Brad Winderbaum and Kevin Feige, Thor: Love And Thunder will once agains see the key protagonist played by Chris Hemsworth. It will hit cinema screens on July 8.
This film will see Thor (Chris Hemsworth) face a journey to seek inner peace.
However, his retirement is interrupted by Gorr The God Butcher, a galactic killer played by Batman star Christian Bale. He seeks the extinction of the gods.
Thor also enlists the help of Korg who is played by Taiki Waiti, King Valkyrie (Tessa Thompson) and ex girlfriend Jane Foster played by Natalie Portman).
However, to Thor's surprise, Jane Foster inadvertently weilds his magical hammer, Mjolnir as the Mighty Thor, as they embark on an incredible adventure to solve the mystery of the God Butcher seeking vengence and try to stop him before its too late.
Check out the trailer below.