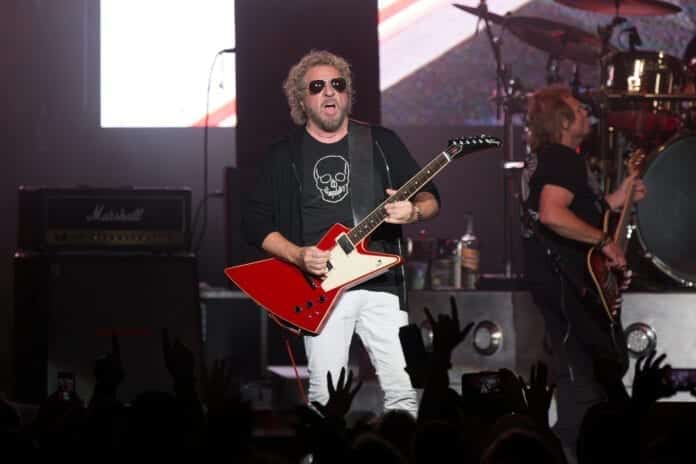 Sammy Hagar would have been up for Eddie Van Halen's planned "kitchen sink" farewell tour featuring all three Van Halen singers. Although, he admits it would have been tough to share the stage with former jumper, David Lee Roth.
Following the passing of lead guitarist Eddie Van Halen last month, manager Irving Azoff revealed the classic line-up planned a final stadium tour in 2019. However, it was shelved after Eddie's health deteriorated. Singer David Lee Roth, bassist Michael Anthony, drummer Alex Van Halen and his late brother Eddie, were all due to take to the stage.
Wolfgang Van Halen clarified recently that ex-vocalists Sammy, David and Gary Cherone would have been included in the shows. Cherone had a brief stint on lead vocals between 1996 and 1999.
In a new interview with SiriuxXM's Eddie Trunk, Hagar declares the proposed tour a "dream come true" but, expressed his concerns about sharing the stage with Roth. Hagar finds Roth to be "not user friendly." Despite some choice words, Hagar was otherwise positive about the idea of featuring all three singers.
"It was totally on my radar," said Hagar. "No one had confirmed any of it, but it was obviously what was gonna happen. I wouldn't look forward to having to share the stage with Dave, only because he's not user friendly. I love the guy, I love the music, all that, but he's just not user friendly.
"He's always gonna pull something to try to make you look bad and make him look good and all that kind of stuff. But it would have been a blast. Are you kidding me? It [would have been] a dream come true."
Hagar was very keen to do a reunion show for the fans
Sammy insisted a "Sam-and-Dave tour" is what the fans always wanted.
He said: "I've been an advocate of doing a Sam-and-Dave tour from day one. You go all the way back to the first reunion, when Dave went out with me that time for that tour, that was the idea of it – to try to get the [Van Halen] brothers' attention to do the reunion way back then and do it again and again and again. I mean, give the fans what they want."
Hagar went as far as presenting the idea to Irving Azoff.
"I said, 'Irving, I'll come out and do two songs. I leave the stage. Dave comes out and does two songs. He leaves the stage, I come out and do two.' Two, two, two, two — like that," Hagar explained. "Not like one guy has to open the show for the first hour, and then the other guy comes for the second hour, and you've gotta flip-flop and all this kind of crazy stuff that Roth would always insist upon."
He added, "It seems like the only way to do it properly [would have been] two and two, two and two, two and two, and that would have been so badass, because, you don't think that each one of us would have freakin' sucked it up and given it a hundred and thirty-five thousand percent trying to blow the other guy off the stage song after song? It would have been the greatest thing ever."
It may well have been one of the best Van Halen gigs ever but sadly, any future ideas will be without the legendary lead guitarist. Although, there might be a treasure trove of hits just waiting to be released.