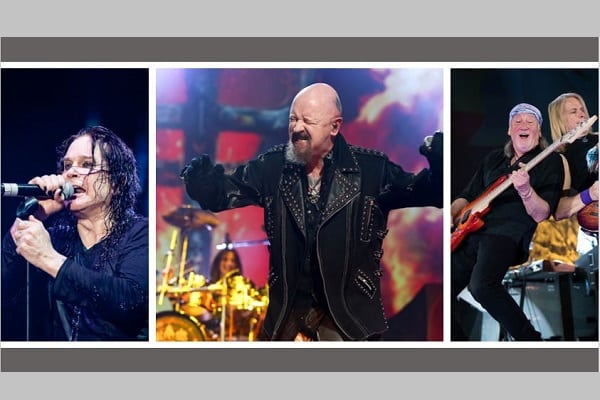 Judas Priest frontman, Rob Halford has recently asked which fellow British band was more important to him, Black Sabbath, or Deep Purple. Speaking in a recent interview with Spain's Mariskal Rock, Halford revealed that both bands had "styles and variety of music" that mattered the most to him.
Halford, who recently opened up on his cancer treatment, said he "was naturally drawn to Sabbath because of the heaviness, Halford explains. "If you put Purple on and then you put Sabbath on, or Sabbath on then Purple, they're both really strong, powerful bands, depending on which album you're listening to.
"Purple are hard rock; to me, they're not metal. I'll probably be killed for saying that, but that's just the way I feel. Sabbath are exclusively metal, although Tony [Iommi, Sabbath guitarist] has always said Sabbath isn't metal. I don't know what's going on, but that's the world we live in, when musicians talk about each other.
Halford further explains that although there is "a certain speed and certain intensity in Purple that is also in Sabbath", it is in a different texture. The singer cites the work of Deep Purple drummer, Ian Paice, "for example, pushing those songs, I was as excited by that as I was by 'Fairies Wear Boots' or 'Iron Man' or any of these super-heavy tracks from Sabbath. So, they were all important to me, as bands are to all musicians."
As all musicians are inspired and influenced by other musicians, Halford declares that "they all are very valuable to me. I wouldn't put one above the rest in terms of a list. The whole representation of the work that they make is important."
Halford and Judas Priest recently announced new dates for the rescheduled 50 Heavy Metal Years North American tour. Fellow heavy metal legends, Queensrÿche are set to join JP in supporting the Brummie band on trek between March-April 2022. Originally planning to perform in September, the band had been forced to postpone around two dozen North American shows
Several shows had to be rescheduled following JP guitarist Richie Faulkner's acute cardiac aortic dissection while performing at the Louder Than Life festival. Following a 10-hour life-saving surgery, and recovery in Rudd Heart and Lung Centre, Faulkner has returned to shredding duties.