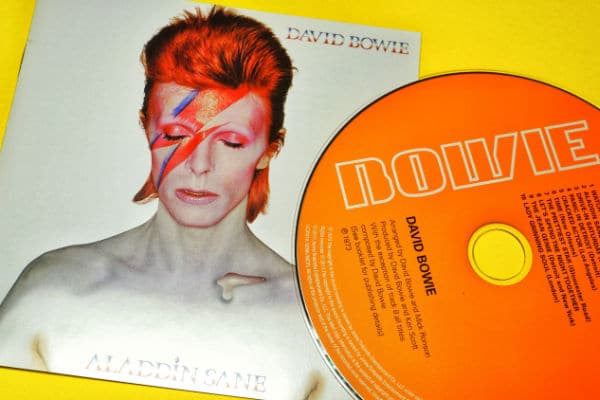 The handwritten lyrics for classic David Bowie hit 'The Jean Genie' have been sold for almost £60,000 at a recent auction.
The lyrics which have been titled, dated, as well as signed by the late singer, were sold for £57,000 under the hammer by Omega Auctions, with the estimate pre sale having been between £50,000 and £70,000.
The original owner was Neal Peters, when he was president of the New York-based David Bowie Fan Club in 1973.
This auction also included a letter on Neal Peters Collection stationery.
Written in 2009, the letter revealed how Bowie had given Peters the A4 lyric sheet as a gift, along with several photocopied documents about the fan club included.
More on this below.
Bidding is currently at £46k ahead of next Tuesday's sale of the #DavidBowie handwritten Jean Genie lyrics. Previous set of handwritten lyrics for 'Starman' fetched £200k (inc premiums)..https://t.co/UszngrZvCY pic.twitter.com/odeK2Vhb2q

— Omega Auctions (@OmegaAuctions) February 3, 2023
"historic set of lyrics"
Having been released in November 1972, 'The Jean Genie' featured on Bowie's sixth studio album 'The Aladdin Sane', reaching number two in the UK singles chart.
Back in January, it was confirmed that the album was to get a special 50th anniversary reissue. 
This special reissue will arrive in April, and will be released as a half speed mastered LP, alongside a picture disc LP pressed on the same master.
A press release also added that the new version of this 1973 album would "cut on a customised late Neumann VMS80 lathe with fully recapped electronics from 192kHz restored masters of the original master tapes, with no additional processing on transfer".
After the sale, Omega Auctions' Paul Fairweather said, "We're well pleased with the price achieved for this historic set of lyrics". 
Elsewhere, Omega Auctions Dan Hampson had revealed that the previous owner of these lyrics had decided to sell them, after seeing the lyrics for Bowie's track 'Starman' selling for £203,500 at an auction. This sale was also five times the original estimate.
Omega Auctions were also behind the sale of the childhood home of Beatles legend John Lennon last September, which was sold for £279,000.
Find out more on this here.