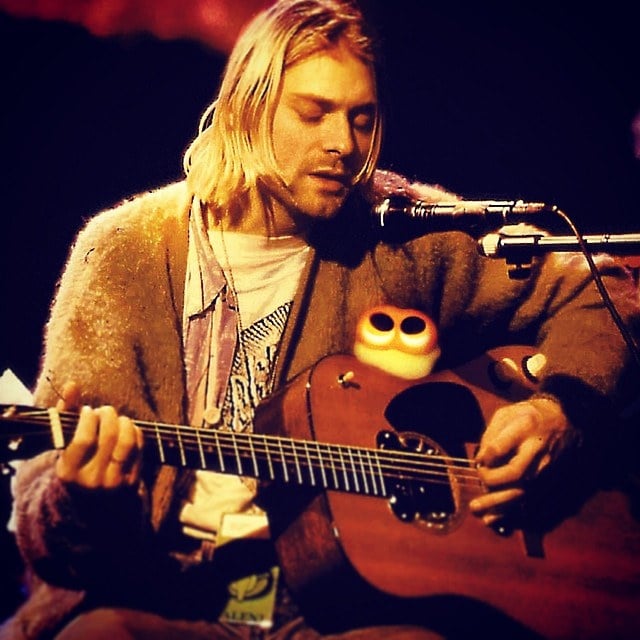 February 20th marks the day Nirvana's frontman Kurt Cobain would have been 48 years-old.
To celebrate his 48th birthday, we decided to share some of our favourite Kurt Cobain quotes.
They reflect the singer's feelings on life, his wit, struggles with fame, his opinions on fellow artists and his music.
Check out his best quotes below.
"I'd like to live off the band, but if not, I'll just retire to Mexico or Yugoslavia with a few hundred dollars, grow potatoes, and learn the history of rock through back issues of Creem magazine."
"Ever since the beginning of rock and roll, there's been an Axl Rose. And it's just boring. It's totally boring to me."
"I never listen to Nevermind. I haven't listened to it since we put it out. That says something."
"It's really not hard to keep your dignity and sign to a major label…Most people don't have any dignity in the first place."
"I can't comment on Soundgarden because I know them personally and I really like them a lot, but I have strong feelings towards Pearl Jam and Alice in Chains and bands like that. They're obviously just corporate puppets that are just trying to jump on the alternative bandwagon – and we are being lumped into that category."
"Hope I die before I turn into Pete Townshend."
"Looking back on the production of Nevermind, I'm embarrassed by it now. It's closer to a Motley Crue record than it is a punk rock record."
"I started being really proud of the fact that I was gay even though I wasn't."
"We sound like the Bay City Rollers after an assault by Black Sabbath. And, we vomit onstage better than anyone."
"I wouldn't wear a tie-dyed tee-shirt unless it was dyed with the urine of Phil Collins and the blood of Jerry Garcia."
"If I went to jail, at least I wouldn't have to sign autographs."
"All drugs are a waste of time. They destroy your memory and your self-respect and everything that goes along with your self-esteem. They're no good at all. But I'm not going to go around preaching against [them]."
"I wouldn't have been surprised if they had voted me 'Most Likely To Kill Everyone At A High School Dance'."
"If it was up to me, I'd get more oil tanker drivers drunk. I don't value music much. I like the Beatles, but I hate Paul McCartney. I like Led Zeppelin, but I hate Robert Plant. I like the Who, but I hate Roger Daltrey."
"I'm a much happier guy than a lot of people think I am."
There is also a new Kurt Cobain documentary coming out this year titled 'Montage of Heck'.
The fully authorised piece has been in the works for years and is produced by Kurt's daughter Frances Bean.
A press release from HBO says that the 'Montage Of Heck' will feature "previously unheard originals" and unlike so many other films about the singer it will include music from Nirvana.
The Nirvana frontman has been the subject of many films, including Gus Van Sant's 'Last Days' about the singer's final days before his suicide and a controversial 1988 Nick Broomfield documentary 'Kurt & Courtney'.
'Montage Of Heck' Director Brett Morgen explains that eight years of preparation have gone into the upcoming film. "I started work on this project eight years ago. Like most people, when I started, I figured there would be limited amounts of fresh material to unearth."
"However, once I stepped into Kurt's archive, I discovered over 200 hours of unreleased music and audio, a vast array of art projects (oil paintings, sculptures), countless hours of never-before-seen home movies, and over 4,000 pages of writings that together help paint an intimate portrait of an artist who rarely revealed himself to the media."
The film is due for release in the Spring on HBO, so hopefully will be shown on their feeder channel, Sky Atlantic, shortly after that.