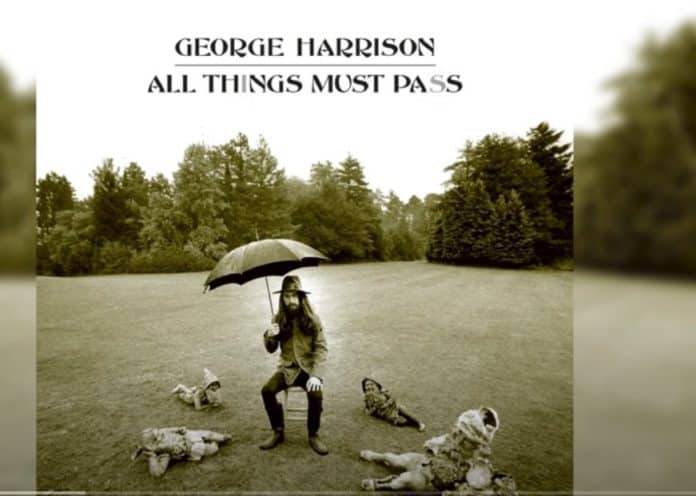 George Harrison's album All Things Must Pass has returned to the top 10 of the Billboard 200 for the first time since it was first released in 1971.
Following its reissuing on August 6, the album has re-entered at number 7 on the chart list.
The Billboard Charts rank the most popular albums of the week. These are based on multi-metric consumption as measured in equivalent album units.
All Things Must Pass by George Harrison
The album itself, was the third solo album of Harrison's and his first to reach number one. It spent 7 weeks in the number one spot in the Billboard Charts between 2 January and 13 February 1971.
It was last seen in the top 10 in March of that year, in ninth place.
The album also includes George Harrison's hits as a solo artist "What Is Life" and the double sided track "My Sweet Lord/Isn't It A Pity".
All Things Must Pass' return to the charts, marks the first time Harrison has featured there since Cloud Nine in 1988. It was also Harrison's highest rank since Dark Horse in 1975.
George Harrison's son Dhani serves as executive producer for this reissuing.
Find out what former Beatle, the late John Lennon had to say of the album following its first release here.
The reissuing
All Things Must Pass was reissued in a number of formats ahead of its anniversary.
These include a deluxe edition, featuring 23 standard tracks, 17 demos outtakes and jams, on a three CD or five-vinyl LP set.
It also contains a standard 23 track set which is available as either a digital album, a two-CD or three-vinyl LP set.
This reissuing also features a super deluxe edition, with 23 standard tracks, 47 demos, outtakes and jams, on digital download, a five-CD-plus blu-ray set, or an eight-vinyl LP set.
An uber deluxe edition features the same 23 standard tracks and 47 bonus tracks on the super deluxe, on five CDs, one blu-ray and eight vinyl LPs, but housed in a collectible wooden crate with memorabilia and two books documenting the making of the album.
The cost of these editions varies from $13 to $25 for the standard album, to around $1,000 for the uber deluxe edition.