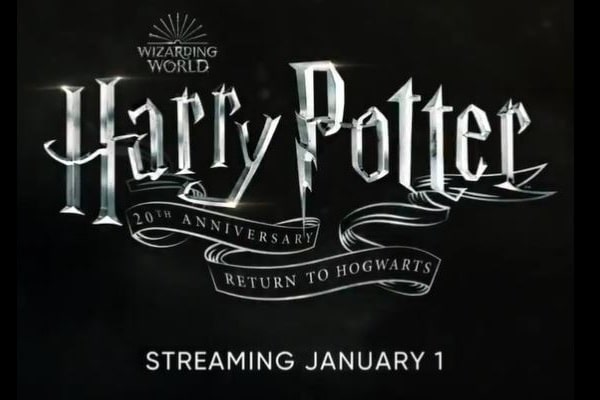 This coming season of magic is set to continue into the new year with the Harry Potter 20th anniversary TV special. Airing January 1st, Daniel Radcliffe, Emma Watson, and Rupert Grint will join American filmmaker, Chris Columbus, to explore the wonder of the original film in depth.
Speaking in a BBC documentary marking the 20th anniversary, Daniel Radcliffe said he loves that Harry Potter fans watch the films when they are "hungover and feeling really crappy about themselves. The time in most people's lives when they discovered it meant that it has an incredibly important place in a lot of people's childhoods, and they still feel very protective over it," the now 32-year-old actor said. "They will just watch back-to-back a few movies and it just takes them to a place of warmth and comfort. That is so lovely to me. That is the real world effect that a film can have on someone's life. I think that is great."
Radcliffe also paid tribute in the documentary to Harry Potter creator, JK Rowling, who will not be marking this milestone of the epic fantasy. Although the 56-year-old novelist had a considerable influence on the films – shooting in Britain with an all-British cast – she is not included in the special. The news follows the controversial comments Rowling made about the trans community last year.
Fellow star, Emma Watson (now 31) shared a lengthy Instagram post to promote the Harry Potter special confessing her character Hermione Granger is her "favourite fictional character of all time".
The Harry Potter co-star added that she is "proud, not just of what we as group contributed as actors to the franchise but, also as the children that became young adults that walked that path. I look at my fellow cast members now and I am just so proud of who everyone has become as people. I am proud we were kind to each other that we supported one another and that we held up something meaningful."
Key characters in the stories, Helena Bonham Carter, Robbie Coltrane, Ralph Fiennes, Jason Isaacs, Gary Oldman, Imelda Staunton, and Tom Felton, are also set to join. Felton, who portrayed flaxen-haired villain, Draco Malfoy, urged Harry Potter fans to save the date as he shared the trailer on Twitter. In the clip below, Felton wrote: "Is this what school homecoming is like? Mark your calendars for New Year's Day #ReturnToHogwarts, streaming on @hbomax x."
Return to Hogwarts will celebrate an astonishing 20 years since the first film, Harry Potter and the Chamber of Secrets. Executive producer Casey Patterson said there is "magic in the air here with this incredible cast, as they all return home to the original sets of Hogwarts". Patterson said the excitement is "palpable" as they prepare to take their fans on a "very special and personal journey, through the making of these incredible films".
is this what school homecoming is like? mark your calendars for New Years Day #ReturnToHogwarts , streaming on @hbomax x pic.twitter.com/FQ38VB1fBb

— Tom Felton (@TomFelton) November 16, 2021