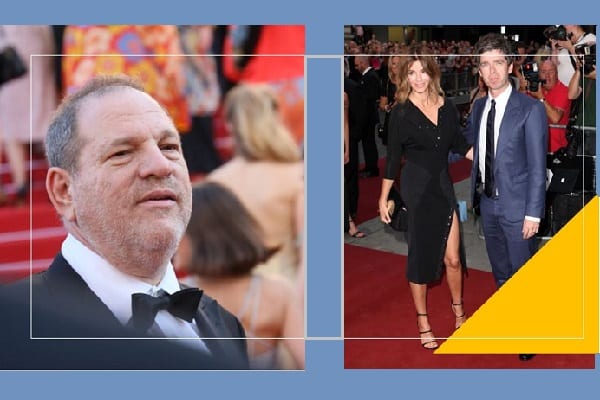 Noel Gallagher claims his wife, Sara MacDonald, had once been leered upon by movie mogul pervert, Harvey Weinstein, the rocker revealed. Noel claims the disturbing encounter happened while "we happened to go for lunch" in Paris a few years ago.
Speaking on the Matt Morgan podcast, Noel revealed, "Harvey Weinstein happened to be sat at quite a big table with loads of similar looking men." Noel claims the disgraced producer and convicted sex offender leered upon his wife as they went past to their table at L'Avenue and, "stared at her throughout this meal."
Although the High Flying Bird frontman initially believed Weinstein may have been interested in casting Sara in a film, he soon realised what might have been his motive. Noel also told his friend Morgan that he recently dreamt he was in a bar with Harvey, and late sex offender Jeffrey Epstein. "'Oh no, I've got to wake up, this is too weird,'" the 54-year-old recalled thinking.
On the wider topic of issues surrounding misogyny in the music industry since the conviction of Harvey Weinstein, Gallagher said, "I haven't heard of anything [in the music industry]. I guess in the film industry, a lot of the time the females need the male bosses to get them further up the ladder, you know what I mean? Whereas in the music industry, if a girl writes a great song, it's still a great song. It seems to me to be a bit more … equal, in the music industry?"
"You know you can't afford to be a misogynist in the music business," Noel continued. "I mean, I write songs about the glory of women all the time, you know what I mean? I've gotten my career out of that. I love being around women, and not to objectify them, they're funnier than most men half the time … I've never understood misogyny."
Noel is gearing up to release new music in the coming months, with plans to tour over the summer. Noel Gallagher's High Flying Birds – is set to tour the UK in June, and Ireland on Sunday June 5th, 2022, @ 5:00 pm | St Annes Park, Dublin. Noel recently revealed he finished writing and demoing the next album, sharing a demo of new track, Trying To Find A World That's Been And Gone: Part 1, with fans last month.