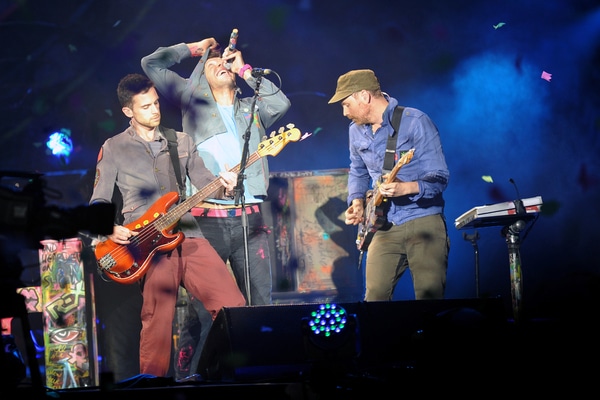 Speculation is mounting that K-Pop giants BTS have collaborated with Coldplay on the latter's upcoming album.
The rumours of a collab began circulating on Thursday when MatchLyric, an online database of song lyrics, posted lyrics purportedly from My Universe, a yet to be released Coldplay song. Matchlyric claims that the song features BTS with a portion of the track featuring Korean language lyrics.
Later a seven second snippet purportedly from the song found its way online. Fans of both groups are claiming to have identified vocals by Coldplay's Chris Martin and BTS's Jungkook in the brief snippet.
???? Coldplay BTS collab? #COLDPLAYxBTS pic.twitter.com/jIavUrO1Jc

— ⁷ (@jkklvr) July 15, 2021
In a statement released to Star News, Warner Music Korea and Big Hit Music, the agency that represents BTS, responded to the growing speculation regarding their clients.
"It is difficult to confirm the related content," read the somewhat unhelpful Korean statement.
Coldplay and BTS crossed artistic paths earlier this year when the Korean superstars performed a cover of Coldplay's 2005 song Fix You as part of an MTV Unplugged session. Introducing the cover, BTS said the song "gave us comfort, so we wanted to prepare this cover to comfort you as well."
Coldplay were impressed with the Koreans' rendition of their hit. The British band shared the video clip on their social media with the word "beautiful" captioned in Korean. They signed the post "Love c, g, w & j", referencing the initials of the individual BTS members.
아름다운 @bts_twt 🤍🤍🤍
Love c, g, w & j #BTSUnplugged https://t.co/XkHAwMi0sl

— Coldplay (@coldplay) February 24, 2021
During an interview with Pop Crush last month, Coldplay frontman Chris Martin took the opportunity to express his fondness for the Korean stars. "I just have nothing but love and respect for them," he said.
In the same interview, Martin was asked if he would be open to a collaboration between Coldplay and BTS. "I love them a lot and so if the right song came along, I wouldn't ever say no," was his reply.
BTS and Coldplay are both appearing on the bill at September's Global Citizen Live. The 24-hour event hopes to raise awareness of global threats like climate change and viruses.
Coldplay's Chris Martin recently claimed he does his best to avoid sleeping at night in order to keep himself inspired. Shunning a full night's sleep, Martin instead prefers naps and meditation.
Speaking on Rob Brydon's podcast, Martin claimed he had been assisted by Conor McGregor's trainer.
"I don't sleep very much in the nighttime. I meditate and also I occasionally take a nap. I was encouraged on that by kickboxer Conor McGregor's trainer," he told Brydon. "After we played in Dublin last time, I went to train in a gym and he said the key to life is making yourself lie down for 15 minutes and close your eyes in the afternoon."