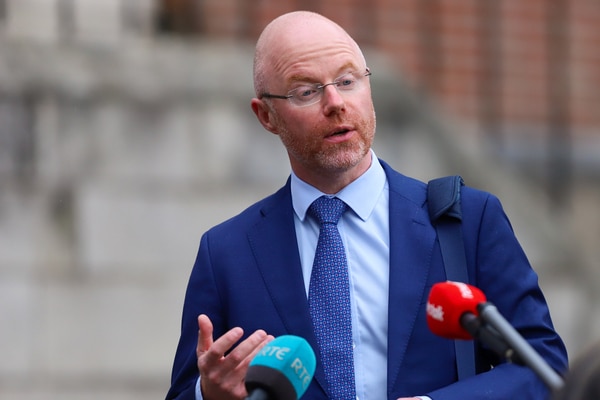 Stephen Donnelly will consider a NPHET reccomendation. This proposes that the requirement of the wearing of masks in most public places is removed.
If Cabinet accept this reccomendation from NPHET, people will no longer be required to wear masks in places like schools, public transport, retail, taxis and public offices. However, you may still have to wear them in medical centres.
The Chief Medical Officer also called for NPHET's current format be wound up.
A letter was submitted by NPHET last night. This letter outlined their call to expunge mandatory mask wearing. They also provided their logic behind this approach.
And now, Health Minister Donnelly will consider these calls from NPHET. He will meet with coalition leaders on Monday (21 February), before the full cabinet meeting on Tuesday.
Mr Donnelly will also consider what to replace the current NPHET format with.
This also comes as Transport Minister Eamon Ryan spoke in the Dáil yesterday. Mr Ryan stated that mandatory mask wearing should be lifted if that was what reccomended by NPHET.
Last November, Stephen Donnelly maintained that he had "nothing to say" to the anti vaxxers who gathered outside his home. More on that report here.
NPHET Call "great news"
Elsewhere, Annie O'Connor the Chief Operations Officer for the HSE has called the easing of most Covid restrictions in Ireland by NPHET as "great news".
"It's great news that we're moving forwards in terms of the pandemic, and certainly that that optimism that we may be getting towards the end of this from our perspective in terms of our hospitals", she said.
"We're seeing unprecedented levels of demand", she said of the current levels of activity in hospitals. "Our services will continue to be busy and we will still have to provide care to those people who have Covid".
"We must continue to try and provide that essential care both from an unscheduled care perspective and catching up".
"Fom a health service perspective, we have to continue to provide all of the range of services that we have provided throughout the past couple of years".
O'Connor also stated any future decision will be "guided by public health in terms of how we do that".
"Our focus across the agency is to ensure that people are not left isolated when they're in our hospitals and that they can receive visitors and we are working towards that across all of our sites".