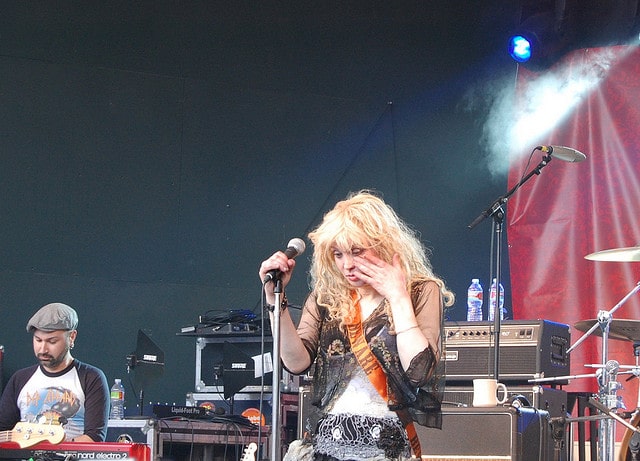 If you have ever wanted to find out what Courtney Love's voice sounds like without any audio enhancements, now's your chance.
Two clips have surfaced, one is of reasonable rendition of the track 'Celebrity Skin' and the other sounds like someone stepped on a cat's tail, multiple times.
In 2010, filmmaker J.M. Ladd was hired to film a few bands, including Courtney's band Hole, at Don Hill's bar in New York during Fashion Week.
After Ladd had captured all the performances, he was never contacted again, so he just held onto the footage. "I still have no idea what happened with regards to the dissolution of their/our arrangement but after fashion week was over, three days later I was standing there (literally) with an invoice and a hard drive," Ladd said.
What's the obvious solution when you're tech-savvy and possess humiliating comedy on film? Post that video on YouTube, that's exactly what Ladd did.
"What you are hearing are just Courtney's isolated vocal and guitar mics (with the obvious bleed from the rest of the band). I've muted everything else. This video I've borrowed from elsewhere on youtube and in trying to sync up my own audio I realized they were a little sloppy with their edit. But you get the idea.
Ladd is quick to confront any conspiracy theories "To address the most obvious, inevitable question that I will be asked…this is not fake. Whether you think she's the worst or this just makes her all the more "punk rock" is for you to decide. I'm merely presenting the facts as they are. Make of them what you will."
We here at NOVA have to warn you though, it's not pretty, so listeners discretion is advised.
Here is the unedited version warts and all.
And here is the enhanced version.