If you didn't get a chance to throw tennis balls on the pitch in Ireland's Euro 2020 qualifier with Georgia on Tuesday you can now go one better and join the millions throwing tennis balls at the head of under-fire FAI official John Delaney!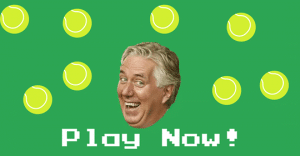 32 year old Tallaght computer whizz Simon Darcy told Colm and Lucy on The Colm and Lucy Breakfast Show he got the inspiration for the game from the pair.
Simon says he lashed the game together while watching the match and woke up to find using Goggle Analytics that the game has been accessed up to 100 000 times meaning it's likely to have been played millions of times!
Ireland fans are calling for John Delaney to resign completely from the FAI, after details emerged of how he tried to silence a story in relation to a €100 000 "bridging loan" he gave the association in 2017
Delaney stepped down as the FAI's CEO and moved into the new role of Executive Vice President but his continued presence in the FAI sparked the tennis ball protest from fans at the Aviva Stadium
https://youtu.be/T3GC_Kqsmz0