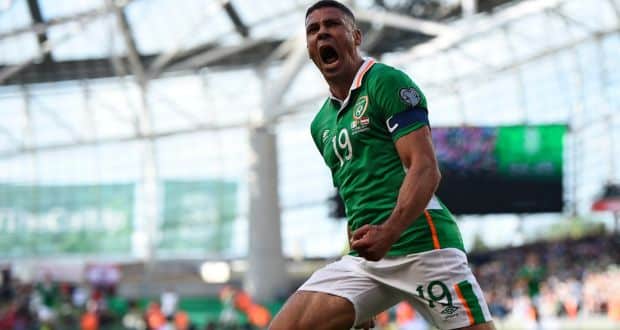 While we continue to endure our bi polar summer, things are beginning to heat up in the World Cup Qualifiers for Ireland.
In group D, where Ireland will be making itself at home for the next few weeks, we had a brief but glorious moment on top of the Table after our one all draw against Austria yesterday.
Many fans felt disappointed in Ireland's performance during the Ireland V Austria match. Throughout the game the home team played poorly and only near the end managed to pick up the pace. The last 10 minutes of the match had packed in all the intensity and hard work that had been missing from the previous 80 minutes of the game.
Ireland equalizing goal was done by Jon Walters which secured Ireland maintaining a strong presence in the Group D Table.
Our spot in the sunshine was brief though, as Serbia outranked us later on following on from their game with Wales where they also came out with a one all draw.
Sunday's results see Serbia go top on goal difference, while Wales are still four points behind in third. This means if the points gap stays the same until the final day, Wales won't be able to overtake Ireland by beating them.
photo cred: uefa.com
Qualification in Group D remains in Ireland's sights wins or even a 6 point advantage in their next four matches will ensure their spot at the 2018 World Cup in Russia.
Below are the remaining fixtures:
SERBIA
Serbia v Moldova (Sept 2)
Ireland v Serbia (Sept 5)
Austria v Serbia (Oct 6)
Serbia v Georgia (Oct 9)
IRELAND
Georgia v Ireland (Sept 2)
Ireland v Serbia (Sept 5)
Ireland v Moldova (Oct 6)
Wales v Ireland (Oct 9)
WALES
Wales v Austria (Sept 2)
Moldova v Wales (Sept 5)
Georgia v Wales (Oct 6)
Wales v Ireland (Oct 9)
AUSTRIA
Wales v Austria (Sept 2)
Austria v Georgia (Sept 5)
Austria v Serbia (Oct 6)
Moldova v Austria (Oct 9)
Photo Cred: Clodagh Kilcoyne/Reuters/Livepic