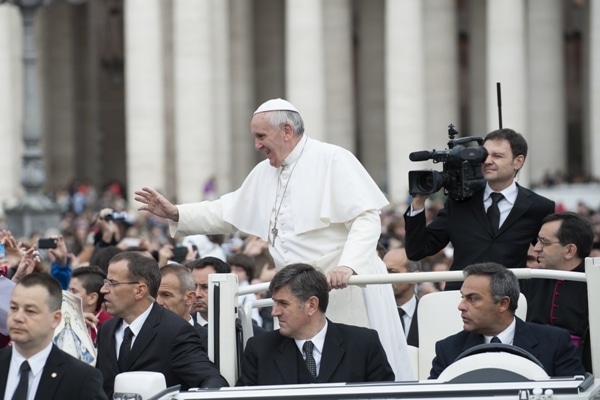 The Health Service Executive (HSE) has urged hospitals to admit people in need of treatment during the papal visit.
Hospitals in Dublin have been advised to discharge patients amid warnings that up to 750 people may require treatment in emergency departments. About 1,500 Gardaí and more than 1,000 medical aid providers will be on duty in Dublin.
Gardaí issued a list of items banned from the papal mass in Phoenix Park, including selfie sticks, alcohol, banners, placards and flags, folding chairs, drones, glass bottles, large prams and umbrellas, and animals (apart from registered guide dogs).
The pope arrives for a 36-hour visit on Saturday, and will return to Rome on Sunday evening. As well as events in Dublin, he will visit the Marian shrine in Knock.
Gardaí has warned of significant road closures around Phoenix park from 6am until midnight on Sunday. Public transport in the city will be free all day on Sunday.
The Irish Association for Emergency Medicine says the high numbers of older people, many with pre-existing medical conditions; a mobile, unseated crowd; prolonged length of time and exposure to the elements provide huge risks.
Based on the 500,000 tickets issued for Phoenix Park where Francis will celebrate an open-air mass the IAEM estimated that up to 3,000 people would need medical assistance on-site and up to 750 may need treatment in an emergency department.
In a statement on Monday, the IAEM said:
"Some planning has occurred, but it has been too late starting and the necessary extra funding to hospitals is as yet unconfirmed … Because of ongoing staff shortages, Dublin emergency departments are struggling to bring in the extra medical and nursing staff that will be needed to cope with the extra arrivals to the receiving hospitals."
St James's hospital said its "internal preparedness group" was monitoring capacity ahead of the visit and in response to demand over the weekend.
Pope Francis and his entourage are expected to travel around Dublin in a fleet of Skoda cars, although his open-sided popemobile is expected to be used at the Knock shrine and major events in the capital.