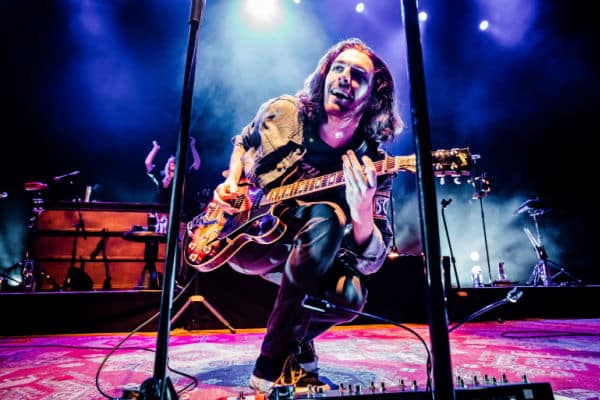 Would you like to listen to the article instead of reading it?
Hozier has announced the release of his brand new album 'Unreal Earth', which is out today.
The album which is the Wicklow singer's third overall, also includes his new single 'Francesca' which will be released tomorrow (May 19).
'Unreal Earth' also includes the singles 'All Things' End', and 'Eat Your Young'. 
Hozier is currently touring the US, but Irish fans will be able to see the 'Take Me To Church' singer at Killarney's INEC on June 27, before taking to the stage at Dublin's Malahide Castle three days later on June 30.
Announcing the news of his new album in a handwritten letter to fans, Hozier wrote, "It's my great pleasure at long last to make the official announcement on the release date of my third album, Unreal Unearth…".
Adding, "I'm proud of this record and enjoyed watching it come to life over the past year. Thank you as always for your support and patience while it was coming to fruition". 
https://twitter.com/Hozier/status/1658849962829000707
"home soil"
Hozier had confirmed plans to perform at Malahide Castle back in February via Twitter.
"It's always a joy announce a show on home soil. I'll be joined by the incredible Teskey Brothers at Malahide Castle on the 30th June. I hope to see you there! Thanks and much love, Andrew", the 'Take Me To Church' singer wrote.
Last month, Hozier also issued a fresh warning to music fans against succumbing to potential scammers when it comes to buying concert tickets.
The singer insisted that he would rather "play to an empty room" than see people pay "inflated prices" online.
He also asked urged people to "please don't buy' from "scalpers". 
He added, "I just hope they (the public) enjoy it! It's a joy, it's an honour. I hope it's a tiny little sample platter of the album to come". More on this here.