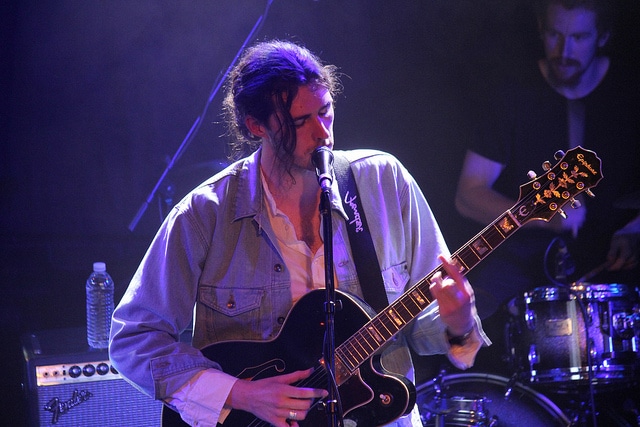 It's not everyday you're sitting in a college lecture and one of the biggest artists in the world shows up to teach your class.
That's exactly what happened to the students at the British and Irish Modern Music Institute in Dublin.
The 24-year-old Irish singer-guitarist Hozier, arrived at the BIMM on Dublin's Francis Street yesterday for a special 'music masterclass' lecture.
Many notable artists have dropped into the Institute over the years to share their wisdom on music and the business with students of BIMM. Blur's guitarist Graham Coxon, The Who's Roger Daltrey, Motorhead's Lemmy, Keane, Paul Weller and Red Hot Chili Peppers' drummer Chad Smith have all given a 'masterclass'.
Bray's answer to Jeff Buckley, chatted to the BIMM students about his meteoric rise to fame, the industry and how to harness the internet for its maximum potential.
Hozier said: "The internet was a huge part of my rise to fame. We put the music out for free and I was incredibly lucky… If the work is good and people connect, it will speak for itself."
The singer admitted he still gets butterflies before he performs.
"I'm getting more used to playing live — that was a steep learning curve! I went from playing in my attic to playing shows in America… 'Overwhelmed' is the word that best describes how I felt! Having good people around you helps: a crew that you trust and a band that you trust."
Students at BIMM told Independent.ie about their excitement after the lecture.
Colin Lyons (18), from Galway, said: "Ever since I first heard Take me To Church I have been a massive fan. To have him come in on a normal Thursday morning and talk about the music industry and perform was nothing short of incredible."
Alannah Hewitt (19), from Navan said: "I found the whole thing mesmerising. Everything was pitch perfect. Hearing his story and his schedule was really inspiring. Best of all he was so grounded and such a modest person."
Hozier's phenomenal year ended with him winning Spotify's 'Spotlight Breakout Star of 2014'.
If you want to see all that the British and Irish Modern Music Institute has to offer, watch the video below.