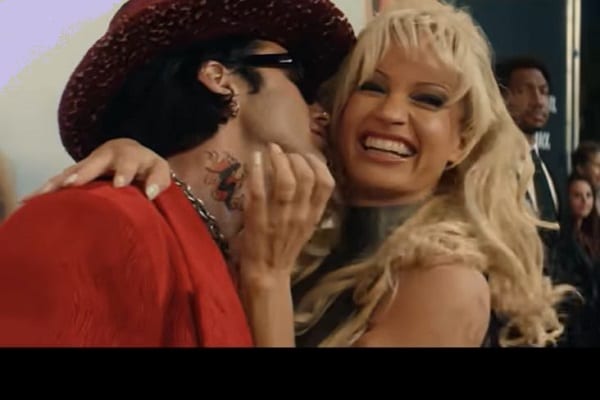 Hulu has released the official trailer for Pam & Tommy, the upcoming limited series detailing the relationship between Tommy Lee, and Pamela Anderson. Watch the once married Mötley Crüe drummer and Baywatch star ride through a wave of destruction left behind in the wake of the sex tape scandal.
Premiering February 2nd, the series stars Marvel Cinematic Universe mainstay, Sebastian Stan as Tommy, and Cinderella protagonist, Lily James as Pam. Seth Rogen portrays Rand Gauthier, the former porn-actor-turned-electrician who stole Pam & Tommy's private tape and sold it over the internet.
The official trailer begins with Anderson's deposition, just as she begins to open up on her relationship with Tommy Lee. "I knew he was the drummer for Mötley Crüe," Pam recalls. "I liked his smile. I still do." Lee later claims that they are "so good together" and can be seen setting up a camera to record their compromising video. Joyous times are had while the pair are celebrating their new romance, until the video's release sends them down a darker path.
Nick Offerman takes on the role of a porn producer, with whom Gauthier partners to try to cash in on the video. Set to the tune of Meat Loaf's I'd Do Anything for Love (But I Won't Do That), Offerman watches the tape. "This is so private. It's like we're seeing something we're not supposed to be seeing." You can watch the trailer below.
Pam & Tommy famously tied the not on February 19th, 1995, astonishingly after only 4days of knowing each other. Before their divorce in '98, the Hollywood couple raised two children: Brandon Thomas and Dylan Jagger.
Internet Entertainment Group's distribution of the tape led to it becoming one of the first celebrity internet sex scandals. The company's founder, Seth Warshavsky, is portrayed in the series by The Woman in the Window actor, Fred Hechinger. Pam and Tommy Lee both filed a copyright-infringement suit against IEG in 1998, winning the case in 2002.