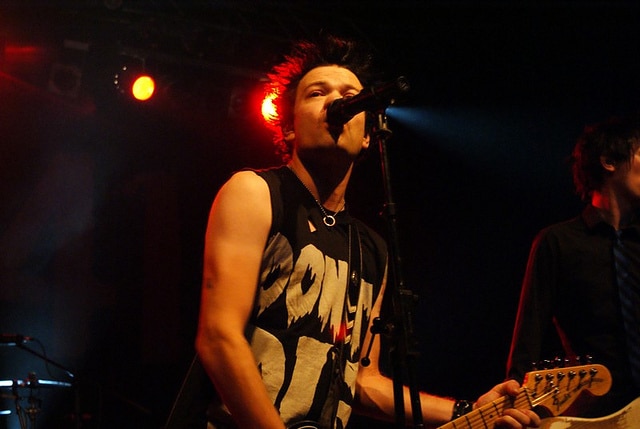 Sum 41's frontman Deryck Whibley is being helped with his addiction, the singer has suffered from ongoing problems with alcohol addiction that recently left him in a coma.
Whibley's addiction took its toll earlier this year, when both his kidney and liver failed, causing him to be rushed to hospital.
Weeks before his collapse, Deryck said:
"If I smelled something, even a strawberry or something, I'd throw up. I poured myself another drink one night before watching TV, and I couldn't make it back to the living room. I collapsed, and my fiancée got me to the hospital. If I hadn't got there when I did, I would have been dead within the hour."
Whibley recalled his time in intensive care unit:
"I remember a doctor coming in and saying, 'I'm going to be honest – we don't know if we can save you. You could die. We're going to do our best, but we can't promise you're going to live.' I had to be rushed to the intensive care unit again and again while I was in the hospital. Things were failing while they were trying to fix me. I almost died five times. They'd take me to intensive care and bring me back to life again."
The Sum 41 frontman was visited by Iggy Pop, and Mötley Crüe's drummer Tommy Lee. Both musicians have suffered from their own addiction problems, offering Whibley advice on recovery. Deryck has also received support from former Guns N' Roses members Duff McKagan and Matt Sorum.
Whibley is sober and doing well. In an interview with Kerrang magazine, he says:
 "Now I'm sober, I don't get calls from certain people that I used to… the drinking friends. Now I'm the bum-out to them. Who wants to invite the sober guy to the party? Y'know who has been incredibly supportive? Iggy Pop. He had a lot of great advice; he's been through it all. We've been friends for years."
Inspired by his recent brush with death, Whibley has been writing new songs, hoping to record a new album and go out on tour.