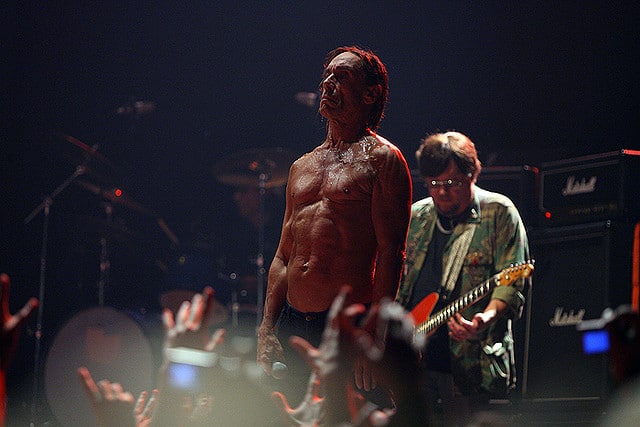 A trailer has surfaced online of Quentin Tarantino's new film, featuring Iggy and the Stooges.
The unmistakable sound of the song Gimme Danger, rumbles over the trailer for Tarantino's film titled The Hateful Eight.
The brawny rugged guitar blares out over clips of the as-yet unmade movie. Iggy bellows out the lyrics, "Baby gonna feel my hand, Say you got a little danger, little stranger, Swear you gonna feel my hand."
This time around, Quentin is making a western, character names flash across the screen reading, The Bounty Hunter, The Hangman, The Prisoner; The Sheriff; The Mexican; The Little Man; The Cow Puncher; The Confederate.
The new film will feature some of Tarantino's old favourites including, Samuel L Jackson, Michael Madsen and Tim Roth.
The Hateful Eight's plot is:
"A bounty hunter and his prisoner traveling by stagecoach to a town called Red Rock get stuck in a blizzard and meet other travelers along the way that need a lift. Sidetracked by the blizzard, they stop at a nearby haberdashery to take shelter until the storm passes. While holed up in this haberdashery waiting out the blizzard, coincidences stop looking like coincidences, enemies become allies, secrets escape, and lots of living things get dead."
Gimme Danger, is taken from Iggy and the Stooges' third studio album Raw Power, released back in 1973. Although Raw Power wasn't initially a success, it influenced a whole generation of musicians from Kurt Cobain to Johnny Marr of The Smiths.
Check out the trailer below.